Our Lady of Haut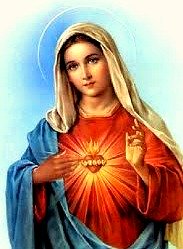 June 5: Our Lady of Haut

The chronicles relate that in the year 1428, Our Lady of Haut, in Hainault, France, restored, that he might receive Holy Baptism, a child to life after it had been dead several days. He lived five hours after receiving the sacrament and then melted away by degrees, like snow, in the presence of seventy-five persons.
The Benedictines have perpetuated Haut or Hainault by erecting a monastery where daily and hourly the praises of Mary are sung in the canonical hours. Miracles still occur at the shrine of Our Lady of Haut; miracles of every nature and for every ardent plea sent for help to Heaven's Queen.
---
---
Our Lady of Haut
Man is like ivy – he must cling to something, something must support him, that he may have courage to live. When he finds neither sympathy nor consolation among his fellow-creatures, he instinctively evokes the inhabitants of a better world, and claims that support from them which society denies him, or is unable to afford him.
Nothing better proves this propensity of the soul than the conduct of the Indians, who were oppressed by the first viceroys of Portugal; these people, disarmed and inoffensive, no longer finding either protection or support in the successors of Alphonsus D'Albuquerque, came and sat down like suppliants at the foot of that great man's tomb, to implore of the illustrious dead, reposing beneath the monumental marble, that justice which the living would not grant either to their rights or their tears.
Man is, by nature, so imperfect and so inclined to evil, that he has always some expiation to make, before he approaches the source of all sanctity; when this expiation appears to him proportioned to his fault, he feels a surer confidence in the succor of Heaven; thence came the generous elation of the martyrs, who hoped in proportion to their tortures. The pilgrim acts upon the same principle; he adds the fatigue, the privations, the inconveniences of the journey to the prayer which he comes to offer; and he hopes, in virtue of the sufferings which he imposes upon himself, to find favor before God, who suffered so much himself! And why should this hope be vain?
*from The History of the Devotion to the Blessed Virgin Mary, Orsini
Roman-catholic-saints.com, Marian Calendar
---
---
Have A Great Story About This Topic?
I have very limited information about this feast of Mary. Have you visited this shrine? Do you have more information, or a great story about this? Please share it!
---


Return to Marian Calendar June from Our Lady of Haut


Return to Titles of Mary from Our Lady of Haut


Return to Roman Catholic Saints Home Page from Our Lady of Haut