Our Lady of Haut 1419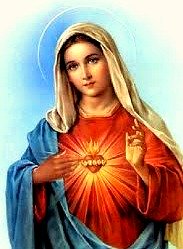 September 4: Our Lady of Haut restores life to young woman in Belgium (1419)
The Abbot Orsini writes: "In the year 1419, Our Lady of Haut, in Hainault, restored to life a young woman named Jane Maillard, who was drawing water from a very deep well, when, the stonework at the top giving way, she fell to the bottom, and was taken out quite dead; but her mother having offered her by vow to Our Lady of Haut, she immediately showed signs of life."
Hainault is a province in Wallonia in Belgium that borders on France, West and East Flanders, Flemish Brabant and Walloon Brabant, and the name comes from the Haine River which flows through the province. The Hainault family was very prominent in the Middle Ages, and Baldwin VI led the 4th Crusade. As of this time I can find no current reference to Our Lady of Haut, or a shrine to the Blessed Mother of that name in Hainault.
---
---
Our Lady of Haut 1419
"Referring to Our Lady's great compassion for sinners, Saint Bernard calls her the Promised Land flowing with milk and honey. And Saint Leo tells us that, when he looks at her, he no longer sees God's justice but only His mercy, for Mary is full of the mercy of God.
"She is like a fair olive in the field (Sir 24:14). Only oil (a symbol of mercy) is extracted from the olive; only grace and mercy flow from the hands of Mary.
"Why is the fair olive tree pictured as standing in the field, and not in some garden, enclosed with walls or hedges? So that all can see her plainly, and get to her without trouble, to secure the remedy for all their evils.
"And what safer refuge can we find than the compassionate heart of Mary? There the poor find a home, the sick a cure, the afflicted consolation, the doubtful counsel, and the abandoned help."
*from The Glories of Mary by Saint Alphonsus Liguori
Our Lady of Haut 1419
James Fitzhenry, roman-catholic-saints.com, Marian Calendar
---
Have A Great Story About This Topic?
I have very limited information about this feast of Mary. Have you visited this shrine? Do you have more information, or a great story about this? Please share it!
---
---
Return to Marian Calendar September

Return to Roman Catholic Saints Home Page from Our Lady of Haut 1419

---