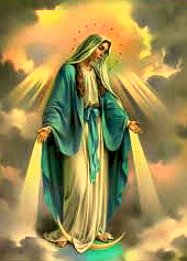 Our Lady of Grace Normandy

April 4: Our Lady of Grace,
Normandy, France

Our Lady of Grace is one of the most ancient maritime chapels of Normandy. This sanctuary was built in consequence of a vow made, in a great tempest, by a Norman duke, who was very devout to the Blessed Virgin. The site of this handsome chapel, surrounded by large trees, in the midst of turf enameled with flowers, is beautiful and calm, like the rich and fresh landscapes of the magnificent province of which it forms a part.
Our Lady of Grace appears like the fortress of Honfleur; from the little mountain which it crowns, the mouth of the Seine is visible, and farther on the ocean, with its long waves of dark green, which receives in its bosom the river of blue waters. Two roads lead to the chapel: the one rough and rocky, the other smooth and even. In other times the inhabitants of Honfleur took delight in pointing out Our Lady of Grace, in reducing its steepness, in covering it with small, fine sand, so that a gracious princess, who had made herself beloved in these parts by her generous bounty, might be able to ascend it without fatigue, when she went to offer her prayers and vows to the Blessed Virgin.
The hurricane of revolutions has carried off the noble lady to a distance, as the wind bears away a rose leaf; but the remembrance of her beneficence still subsists.
(*from Life of the Blessed Virgin Mary, with the History of Devotion to Her by Mathieu Orsini, translated from the French.)
---
---
The feast of Our Lady of Grace is observed in various churches at different times. Mary accordingly, is considered "full of grace" or, as the Mother who brings down graces and benefits on us. She does both, as the collect for the Mass of Our Lady of Grace states: "God conferred the grace of regeneration upon mankind through Mary's fruitful virginity; may we then share her happiness in Heaven."
The familiar image of Our Lady of Grace depicts Mary with hands outspread toward her devotees, and from those hands rays of light flow, symbolizing that always she is ready and able to shower upon us, her children, all the graces and blessings we desire.
"Hail Mary, Lily of spotless whiteness, thou dost ravish the gaze of the adorable Trinity dwelling in the eternal sojourn of light and peace. Hail, Rose of celestial sweetness, Virgin immaculate, whom the King of Heaven and Earth chose for His Mother and whom thou didst nourish with thy virginal milk, pour into my soul torrents of divine graces. Amen."
Mary, Our Lady of Grace, promised Saint Gertrude, as we are told in the 19th chapter of the revelations, that the inestimable treasures of her loving compassion would be given to those who saluted her in the above prayer, known as the "Golden Ave Maria," and in the words of the Blessed Virgin, "And at the hour of their departure, I will appear to them clothed with radiant beauty and I will pour into their souls heavenly sweetness and consolation."
*from The Woman in Orbit
---
---


Return to Marian Calendar April from Our Lady of Grace Normandy


Return to Titles of Mary from Our Lady of Grace Normandy


Return to Roman Catholic Saints Home Page from Our Lady of Grace Normandy