Our Lady of Gifts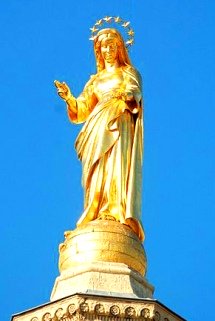 October 8: Church of Our Lady of Gifts, Avignon France (1st Century) founded by St. Martha
Saint Martha of Bethany was the sister of Lazarus and Mary. She it was who is mentioned in the New Testament waiting on Jesus "troubled about many things." According to the Golden Legend, after Jesus' death and resurrection, she left Judea with her brother and sister "in a ship without sail, oars, or rudder." This occurred in about the year 48 AD.
Their boat was conducted on its way by Our Lord from heaven. Martha went first to the territory of Aquenese or Aix, a region now known as Provence, France. After converting the people to the True Faith, she and her siblings then travelled on to settle in Avignon.
There is a tradition that attributes the foundation of the church of Our Lady of Gifts, or "Our Lady of Doms," at Avignon, to Saint Martha, and this while Our Lady was still alive! This church was built over what remained of a pagan temple atop a hill called "Le Rocher des Doms." It is reported that this church was visibly consecrated by Our Lord Himself. Later in history the church was demolished by the Saracens, and was repaired by the Emperor Charlemagne.
---
---
Our Lady of Gifts
The Golden Legend also details another event involving Martha.
"There was at that time upon the river of Rhone, in a certain wood between Arles and Avignon, a great dragon, half beast and half fish, greater than an ox, longer than a horse, having teeth sharp as a sword, and horned on either side; head like a lion, tail like a serpent, and defended him with two wings on either side, and could not be beaten with cast of stones nor with other armor, and was as strong as twelve lions or bears; which dragon lay hiding and lurking in the river, and perished them that passed by and drowned ships. He came thither by sea from Galicia, and was engendered of Leviathan, which is a serpent of the water and is much wood, and of a beast called Bonacho, that is engendered in Galicia. To him Martha, at the prayer of the people, came into the wood, and found him eating a man. And she cast on him holy water, and showed to him the cross, which anon was overcome, and standing still as a sheep, she bound him with her own girdle, and then was slain with spears and glaives of the people."
Also known as Avignon Cathedral, and the Cathedrale Notre-Dame des Doms d'Avignon in French, the church at the present location was constructed in the 12th century in the Romanesque style. The seat of the Archbishop of Avignon, it is also a national monument in France. Atop the western tower is the large gilded statue of the Blessed Virgin Mary shown above.
Our Lady of Gifts
James Fitzhenry, roman-catholic-saints.com, Marian Calendar
---
Have A Great Story About This Topic?
Do you have a great story? Have You Visited This Shrine? Share it!
---
---
Return to Marian Calendar October

Return to Roman Catholic Saints Home Page from Our Lady of Gifts

---