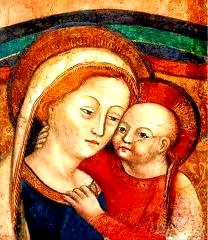 Our Lady of Genazzano

Our Lady of Genazzano
Or Our Lady of Good Counsel

George Kastrioti Skanderbeg (1405–1467), also known as Iskander, or by his more colorful title, the Dragon of Albania. He was a great warrior and leader of the people of Albania who fought against the expansion of the Ottoman Empire into his kingdom. An invincible opponent of Islam, the reason for his successes was no secret: he "loved the sanctuary of Mary with a devoted, enthusiastic love; and Mary in return, not only made him a model of Christian perfection, but also gave him an invincible power, which preserved not only Albania but also Christendom during his reign."
There was at this time a miraculous painting located in the town of Scutari, which was the capital of Albania. Our Lady of Scutari, now known as Our Lady of Good Counsel and Our Lady of Genazzano, is an image of Our Lady holding her Divine Son which had been painted on a thin sheet of plaster by an unknown hand. This portrait, reputed to date from the time of the Apostles of Christ, was greatly venerated and beloved by the faithful Albanian people. It was Our Lady of Scutari who had consoled and preserved Iskander through all his trials.
After his victories, Iskander went to kneel before the image of Our Lady of Scutari, thanking and publicly praising her for his success. "He was a hero formed in the same school as all those who derive their strength from their devotion to the Blessed Virgin. Like a new Saint Fernando III, King of Castile, Scanderbeg was, under the guidance of Mary, as gentle in peace as he was terrible in war. The good Christian prince was often seen at her feet to beg the protection of his Lady in his greatest afflictions."
---
---
Pope Nicholas V called Iskander "the champion and shield of Christendom," which was true, although it was the Blessed Virgin Mary who protected her champion and granted him his victories. The prince and unvanquished warrior, whose strength of soul gave his compatriots fortitude to throw off their lethargy, courage to rise up against the oppressive infidels, daring to despise death and thus expel them from their country, moved his subjects not only by example but also by his unbreakable faith, his ardent charity, and his unshakable hope. Scanderbeg was God's sword against the enemies of the holy Catholic Faith, the impregnable defensive wall protecting his realm.
At the end of his life, physically exhausted from his labors, Iskander sensed that his death was near. He went one last time to visit Our Lady of Scutari at her shrine, and then retired to the city of Lesh to die. There he won a final battle against the Turks before he laid down and gave up his soul to God. He had ended his life heroically as a powerful defender of the Catholic faith and of Christendom.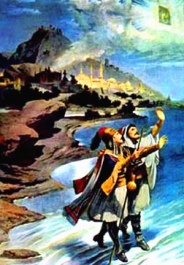 Shortly after Iskander's death, the Ottoman army invaded Albania again. Without their invincible champion, it was only a matter of time before the capital was taken. The Blessed Virgin revealed to two pious men that her image would not be desecrated, and told them to prepare themselves for a long journey to follow the fresco when it left Albania. The picture then moved away from the wall, seemingly of its own accord, and floated into the air.
As the pair followed the image of Jesus and Mary, it was hidden in a cloud and went out over the waters of the Adriatic sea. Full of confidence in Our Lady, the men stepped upon the water, which miraculously supported them, and so they continued to follow the image until they made land along the coast of Italy. At that point they lost sight of the cloud.
It was not long before they learned where the image had gone. The cloud was seen again by the people of Genazzano when they looked up into the sky to find the source of the heavenly music that suddenly reached their ears. They watched dumbfounded as the little cloud descended and came to rest where it can still be seen today, floating before a wall of the Church of the Mother of Good Counsel in Genazzano. The image indeed floats before the wall, for it is not attached or supported in any way.
A hundred years later Pope Paul III had the picture studied and authenticated; Innocent IX had it crowned; many other Popes have granted favors to the shrine. As late as 1936 a commission formed to study the picture, reported, if struck a slight blow it reacts as if it were hollow; if set in motion, it oscillates visibly. Pope Leo XIII raised the sanctuary to the dignity of a basilica and had the invocation, "Mother of Good Counsel" added to the Litany of Loretto. Pope Pius IX had a great devotion to Our Lady under this title; he offered his first Mass before its image; in 1864 he made a pilgrimage to Genazzano to have counsel of her who is "Seat of Wisdom." He kept her image in his study and fostered a cult to Mary under this title; thus he exemplified the filial confidence of all true sons of Mary.*
There have been numerous miracles at the shrine where Mary took refuge after the death of her champion in Albania. Through this image of Our Lady of Genazzano, and throughout many long ages, she has been caring for her children on earth. As the Mother of God she has the ability to truly help us. Indeed, it is her ardent desire to support us and counsel us in our need. Pope Leo XIII instructed us to "follow her counsels!" and, like so many saints and Catholic heroes, we would profit greatly if we did so!
*from The Woman in Orbit
---
---


Return to Titles of Mary from Our Lady of Genazzano

Return to Marian Calendar April from Our Lady of Genazzano

Return to Roman Catholic Saints Homepage from Our Lady of Genazzano