Our Lady of Edessa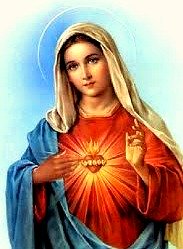 June 2: Our Lady of Edessa, in Asia Minor

Saint Alexis, also known as Saint Alexius, is reputed to have been the son of a prominent Roman senator named Euphemian, who was a man both wealthy and virtuous. Euphemian and his wife Algas were devout Catholics. They had been unable to have children for some time, but after unfailing prayer to God, a son, Alexis, was born to them.
Living in Rome in the 4th Century, Alexis was given an excellent education in his youth, learning from his parents at an early age that God expects the prosperous to use their wealth to assist and relieve the poor.
When Alexis grew up, Euphemian and his wife Algas chose what they thought would be a good spouse for their son. His bride to be is said to have been a member of the Roman imperial family, but Alexis wanted to give his life to God, and did not wish to be married. In obedience to the wishes of his parents, Alexis did marry, but after the ceremony, by Divine Inspiration, he removed his wedding band and gave it back to his bride.
---
---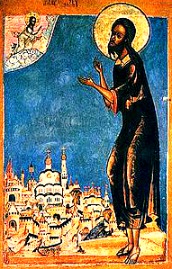 Apparently Alexis' bride had consented to this, and so Alexis left Rome in secret and took ship to Syria. He then journeyed to Edessa, where, although he had once been very rich, he began living the life of a common beggar at the entrance to a church dedicated to the Blessed Virgin Mary, Our Lady of Edessa. Not knowing the circumstances of his disappearance, his family searched for him in vain for many years.

Saint Alexis was content to live a beggar's life, surviving off the meager alms he obtained each day after praying before the image of the Blessed Virgin at the shrine. He spent much of the rest of his time caring for the sick and infirm at Edessa's hospital. He never spoke of himself, or of the life he had left behind, and there were none to whom he ever revealed his name.

One day the image venerated by Saint Alexis spoke to a sacristan, defending the saint while also revealing that Alexis was a "Man of God" and making known his holiness to all the people of Edessa.

Saint Alexis, seeing himself as nothing but a lowly beggar, found he was suddenly venerated as a holy man. Humbled by the revelation of Our Lady of Edessa, he fled the city for a place where he could remain unknown. He boarded a ship to Tarsus, but a storm forced the ship to the Italian coast. Seeing the hand of God in this, and following Divine Inspiration, Saint Alexis returned to his boyhood home on Aventine Hill in the city of Rome.

The parents of Saint Alexis were still alive, but they did not recognize their own son in the ragged beggar he had become. He who was heir to a noble title and magnificent property was given modest employment and a miserable corner beneath the stairs where he could sleep. He revealed himself to no one, and never asked for anything more. Saint Alexis spent the remaining 17 years of his life as a stranger in his own home, suffering the contempt and buffets of his father's servants in patience and humility.

When Saint Alexis died, the church bells rang of their own accord. Pope Innocent I was celebrating Mass when he was interrupted by an unseen voice telling him to "Seek the man of God." The Roman Emperor joined Pope Innocent in the search, and the two, guided by the mysterious voice, found the body of Saint Alexis where he had expired under the staircase.

When Saint Alexis was found he held a scroll detailing the account of his life that God had commanded he put down in writing, and this document also revealed his identity. Alexis' parents were deeply saddened to learn that the beggar who had lived beneath the stairs and eaten the scraps from their table had actually been their own son, though they also realized that he was a saint who had suffered all for the love of God.

Saint Alexis was buried in Saint Peter's Basilica, though his remains were later transferred to the church of Saint Boniface on the Aventine Way in Rome. There is an enclosed display which shows the very staircase beneath which Saint Alexis once slept.

Saint Alexis is the model for the Alexian Brothers, and he has also long been considered the patron saint of pilgrims and beggars, and his feast day of July 17th was removed from the calendar of saints at Vatican II.
James Fitzhenry, roman-catholic-saints.com, Marian Calendar
---
---
Have A Great Story About This Topic?
Do you have a great story? Have You Visited This Shrine? Share it!


Return to Marian Calendar June from Our Lady of Edessa

Return to Titles of Mary from Our Lady of Edessa

Return to Roman Catholic Saints Home Page from Our Lady of Edessa