Our Lady of Clos Evrard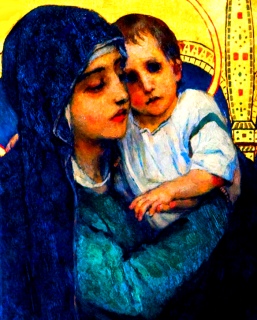 Our Lady of Clos Evrard, Trier, Germany 1449

The shrine of Our Lady of Clos Evrard is in the city of Trier, which is called Treves in the English language. It is the oldest city in Germany, founded before the time of Christ on the bank of the Moselle River.
An image of the Blessed Virgin was fastened to an oak tree by a wine-dresser, who wished to honor Mary; but Our Lady ordered him to build a small hut in her honor.
The miracles which where wrought there caused this hut first to be changed into a little chapel, and finally into a church which was dedicated to Our Lady of Clos Evrard in the year 1449 by James de Siruq, Archbishop of Treves, who strove to restore order to the confused finances of the diocese.
---
---
Our Lady of Clos Evrard
Trier boasted of having Christian citizens as early as the second century, and had a bishop in the third.
The city of Trier is also the location of the famous cathedral of Trier, which has the unique privilege of having among its precious relics the Robe of Christ, the Holy Coat as it is called. It is believed to be the seamless garment of Christ, and is of a plain brownish fabric that appears to be linen or cotton. During an investigation that took place in 1890 and 1891, it was found that the relic had not even any trace of a seam.
According to tradition, it is the garment over which the soldiers cast lots during the Crucifixion of Christ. The relic was sent to Trier by the Empress Saint Helena, and there is an ancient document of Pope Sylvester written to the church of Trier which mentions the garment.
There were two expositions of the Holy Coat in the year 1844, with well over a million Catholic pilgrims flocking to Trier on the 18th of August and 6th of October to view the relic. It is recorded that there were a number of wonderful cures among the faithful. Another exposition took place from 20 August until 4 October in the year 1891, with nearly two million pilgrims attending. Again, there were many accounts of miracles that occurred during the exposition. After another exposition in 1959, the relic was placed inside an ornate reliquary in a chapel where it can be found even to this day.
Besides the Holy Coat, there is also on display one of the nails which was used in the Crucifixion of Christ.
*from The Woman in Orbit and other sources
James Fitzhenry, roman-catholic-saints.com, Marian Calendar
---
Have A Great Story About This Topic?
I have very limited information about this feast of Mary. Have you visited this shrine? Do you have more information, or a great story about this? Please share it!
---
---

Return to Marian Calendar June from Our Lady of Clos Evrard

Return to Titles of Mary from Our Lady of Clos Evrard

Return to Roman Catholic Saints Home Page from Our Lady of Clos Evrard