Our Lady of Clairvaux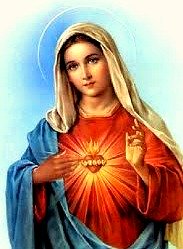 October 13: Our Lady of Clairvaux, France, (1114)
Saint Bernard had been a monk at Citeaux Abbey, which had been formed under a restored rule of Saint Benedict, when he left to found a new abbey. Taking 12 monks with him, he stopped at a glen called Val d'Absinthe on 25 June 1115, founding Claire Vallee (Valley), which then later became known as "Clairvaux." He became its first abbot of this celebrated monastery, but this was only the first of 70 monasteries Saint Bernard was to found.
This feast day celebrates the dedication of the founding of the monastery at Clairvaux, in the diocese of Langres, in honor of the Blessed Virgin. This event is believed to have occurred in 1115, and not 1114, as shown in the Marian calendar. Saint Bernard had many grave difficulties to overcome at Clairvaux, as so often happens when one begins to do God's work. Despite all the trials, however, disciples flocked to Clairvaux, which made it necessary for the saint to found many new abbeys.
Saint Bernard died at Clarivaux in the year 1153, aged sixty-three years. His devotion to the Mother of God is universally known. Although he was originally buried at Clarivaux, this saint's earthly remains were moved to Troyes Cathedral when the abbey was seized by the atheistic French government.

---
---
Our Lady of Clairvaux
Alphonsus I, King of Portugal, in the year 1142, bound himself and his successors to pay every year, as the vassal of Our Lady of Claivaux, fifty gold maravedis for the upkeep of the shrine. King Alphonsus I was responsible for building many monasteries and convents, and granting various privileges to many religious orders. It is said that the great Saint Bernard of Clairvaux was his uncle.
The original abbey founded by Saint Bernard is now nothing more than ruins, but what remains is protected by the French Ministry of Culture as an Historical monument since the year 1926.
Saint Bernard in his time was regarded as the apple of the Virgin's eye. He placed all his churches under the special protection of Mary. To him Mary was the great mediator. Not even the weakest human frailty could fear to approach this Mother. Addressing Mary, Bernard says, "Let him deny your mercy who can say that he has ever asked in vain."
Our Lady of Clairvaux

*from The Woman in Orbit and other sources


---
Have A Great Story About This Topic?
Do you have a great story? Have You Visited This Shrine? Share it!
---
---
Return to Marian Calendar October

Return to Roman Catholic Saints from Our Lady of Clairvaux

---