Our Lady of Beaumont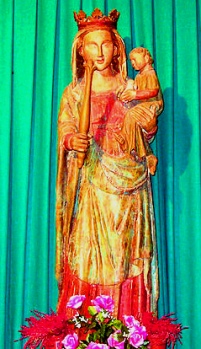 September 30: Our Lady of Beaumont, Lorraine, France (12th Century)
The little shrine of Our Lady of Beaumont, or Notre-Dame-de-Bermont, is located in Lorraine, France, between the towns of Domremy and Vancouleurs. For many years the small church was thought to date from the 11th century, though the date of its founding was thought lost in the mists of time. It was thought that perhaps it might have been built for a monastery of Benedictine monks, but was subsequently sold to a man named Geoffrey de Bourlemont. We know now it was founded by Antoine Sigismund of Lorraine in the year 920.
It is known that St. Joan of Arc liked to go to Our Lady of Bermont on pilgrimage on Saturdays when she was a little girl, and also often during the week, to offer candles and flowers to Our Lady. Although a small chapel, it has great importance, as it was here that Joan of Arc commended the affairs of France to the Queen of Heaven and Earth, and it was here that Mary ordered Joan to take up arms to deliver her country of France from the hands of the English. Joan was always faithful to the Virgin of Bermont. A farmer in Greux, at her trial, said she was often praying there when her parents believed she was working in the fields. 
The full name of the town of Domremy is actually Domremy-la-Pucelle, in memory of Joan of Arc, and the church is about two miles from Joan's hometown.
---
---
Our Lady of Beaumont
The statue shown above is Notre-Dame de Bermont, and is believed to be the statue once venerated by Joan of Arc. It is now kept in the crypt of the Basilica-du-Bois-Chenu. The beautiful Virgin holds a lily in her hands. St. Joan later embroidered the flower of the lily from the hands of an angel on one of her banners.
The chapel was restored shortly before the turn of the century, and several coats of old paint were removed from the walls of the chapel. In doing so a drawing was discovered of a young peasant girl at prayer while dressed in a man's attire. The image has blue eyes and blonde hair, and since the drawing was made during the time of Joan's life, and Joan was known to pray at the church, the local bishop stated that he thought the portrait must certainly be of Joan of Arc. As it is little more than a line drawing, it really tells us little of what Joan may have looked like.
Nothing in twelfth-century art is so fine as the air and gesture of sympathetic majesty. This gave Joan of Arc masculine courage, combined with feminine fortitude to carry out her Queen's command.
*from The Woman in Orbit and other sources
James Fitzhenry, Marian Calendar, roman-catholic-saints.com
---
Have A Great Story About This Topic?
Do you have a great story? Have You Visited This Shrine? Share it!
---
---
Return to Marian Calendar September

Return to Roman Catholic Saints Home Page from Our Lady of Beaumont