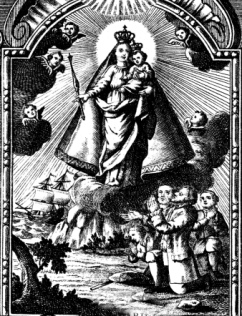 Our Lady of Arabida
April 17: Our Lady of Arabida
Nossa Senhora da Arrábida

The shrine of Our Lady of Arabida is popular with sailors and with all those who travel by water. It owes its beginnings to a miraculous occurrence during the 16th century.
At some time during this century an English merchant named Hildebrand was standing off the entrance to the Tague River when a great storm caught his ship and immediately plunged him into the dangerous waters at the mouth of the river. The ship was in great danger and the merchant, being a pious Catholic, knelt before a picture of Our Lady which he always kept on board his ship.
Soon after he began praying a bright light was seen shining through the darkness and the ship came to rest in calm waters. When daylight came, it could be seen that the vessel was safely anchored at the foot of a very steep wooded mountain.
---
---
Our Lady of Arabida
Hildebrand went back below decks to kneel before the illustration of Our Lady in thanksgiving, when he found that the picture was no longer there. Since it had been from that direction of the mountain that he had seen the light the night before, the merchant went on land and climbed the steep trail to the top.
There, on the very top of the mountain, amid the dense woods, was his picture of Our Lady, before which he had prayed in his hour of need. Greatly moved, the merchant finished his business as soon as possible in England and returned to Portugal. He gave away his goods to the poor and settled down in a small hermitage at the top of the mountain, where the picture had indicated that Our Lady wished a shrine to be.
The shrine is there today, and still popular with all who travel by water. Numerous votive tablets surround the picture, testifying to miracles worked by Our Lady of Arabida for those who come to her in need. Sailors going on a long voyage usually go for a farewell visit on departure and return to give thanks when they come back.
The Nossa Senhora da Arrábida is in the chapel of the convent. It is a replica that is taken in procession, and like the original, has a natural head of hair and a silver crown over a blue mantle over an embroidered dress bedecked with silver sequins. In one hand the Blessed Virgin carries the baby Jesus who wears a similar crown to that of his mother. In the other hand, Our Lady holds a silver scepter. Only half a meter tall, she has a profound physical and spiritual presence. The procession winds through several city streets, accompanied by a band, banners, and flags. A great crowd processes each year to pay homage to Senhora da Arrábida, or in thanksgiving for answered prayers, and many climbed the mountain barefoot. There were fishermen who were going to pay for promises made in moments when they feared that their vessel was sinking, and women, accompanied by their children, who went in thanksgiving for their husbands and fathers who came back safely through heavy storms. Still others spoke of cures from serious illnesses or severe accidents, and several miracles were attributed to Our Lady of Arabida.
*from The Woman in Orbit and other sources. roman-catholic-saints.com, Marian Calendar
---
---
Have A Great Story About This Topic?
I have very limited information about this feast of Mary. Have you visited this shrine? Do you have more information, or a great story about this? Please share it!
---


Return to Marian Calendar Page from Our Lady of Arabida


Return to Titles of Mary from Our Lady of Arabida


Return to Roman Catholic Saints Homepage from Our Lady of Arabida