Order of the Visitation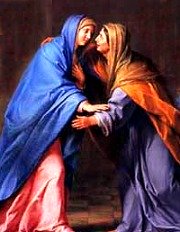 June 6: Institution of the Nuns of the Visitation of Our Lady, by
St. Francis de Sales (1610)

The Institute of the nuns of the Visitation of Our Lady, or the Order of the Visitation, were founded at Annecy, in Savoy, on June 6th of the year 1610, by Saint Francis de Sales, Bishop of Geneva, and Saint Jane Frances de Chantal, who was the first religious of the order.
The institute was a contemplative order founded for young women and widows who felt they were called to the religious life, yet also felt that they did not have the ability to bear the austerities demanded by the other major religious orders. They were all women dedicated to prayer who sought to serve God in spirit and in truth, but the order especially honors the Blessed Virgin in the mystery of the Visitation.
Initially, the order had no name, but was formed as a refuge for women who desired to dedicate their lives to doing works of charity. It began with four religious in a house that Saint Francis de Sales provided the new order that was located close to Lake Annecy, and soon there were ten more who joined as novices. St Francis decided upon the name of the order.
---
---
Order of the Visitation
As often happens with works that are pleasing to God, the Order of the Visitation met with some opposition. Certain modifications were made, and St Francis wrote a book named Treatise on the Love of God as a guide for the more advanced sisters. The foremost virtue he exhorted the sisters to practice was humility, as he said himself, "humility is the fountain of all other virtues; don't limit humility, make of it the principal one of all your actions."
Saint Jane Frances de Chantal was a personal friend of St Francis de Sales, and she governed the new order of sisters wisely under the direction of St Francis. Soon there were other convents at Lyons, Bourges, Grenoble and even Paris. Saint Jane Frances founded the convent in Paris amid certain opposition, yet she gained the acceptance of her detractors through the grace of God and her own patient humility. It was in Paris that she met St Vincent de Paul. The Order spread throughout Europe, and even came to the United States in the year 1883.
James Fitzhenry, roman-catholic-saints.com, Marian Calendar
---
---
Have A Great Story About This Topic?
Do you have a great story? Have You Visited This Shrine? Share it!
---


Return to Marian Calendar Page


Return to Roman Catholic Saints Home Page