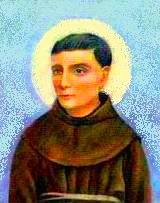 John Baptist Righi

Blessed John Baptist Righi of Fabriano
(Beato Giovanni Battista Righi di Fabriano)

Feast Day – March 11


Blessed John Baptist Righi descended from a noble family in Fabriano, Italy, and already as a child manifested a special love for prayer, together with unusual obedience towards his parents, and a tender compassion for the poor. After he had become a Franciscan, he chose to live in a cave in order to contemplate the sufferings of Christ without being disturbed or seen by others. In regard to food and clothing, he observed the greatest austerity and abnegation, and was, above all, firmly established in humility.
The words of the Apostle were ever before his mind: "Christ suffered for us" (1 Pet. 2,21). For our sins, for our eternal salvation, our dear Lord suffered unspeakable tortures from the day on which He was born in an inhospitable stable until the last drop of blood flowed from the wound in His sacred side on the cross. Hence, it is most ungrateful and unkind to pass over His sufferings in an indifferent manner.
---
---
On the other hand, the contemplation of the sufferings of Christ provides us with consolation in sorrow and in the sufferings of life; for, although Christ was innocent, He suffered more than us. It affords strength in times when slander and contempt have touched us, for Christ has suffered a greater share of this affliction than we have. It affords hope for the remission of sins.
The faithful gathered in great crowds to attend his sermons. He was favored with the special gift of arousing great confidence in the mercy of God, so much so, that many sinners repented of their wickedness and some of the most hardened among them were converted. Even during his lifetime he healed many sick persons by merely making the Sign of the Cross over them.
After a life of rigorous penance, Blessed John Baptist Righi went to his eternal rest at the ripe old age of seventy years. He died on March 11, 1539. Pope Pius X confirmed the veneration that had been paid to him from the time of his death.
from: The Franciscan Book Of Saints, ed. by Marion Habig, OFM
---
---


Return to Traditional Franciscan Calendar Page


Return to Saints Page


Return to Roman Catholic Saints Homepage