Catharine Queen of England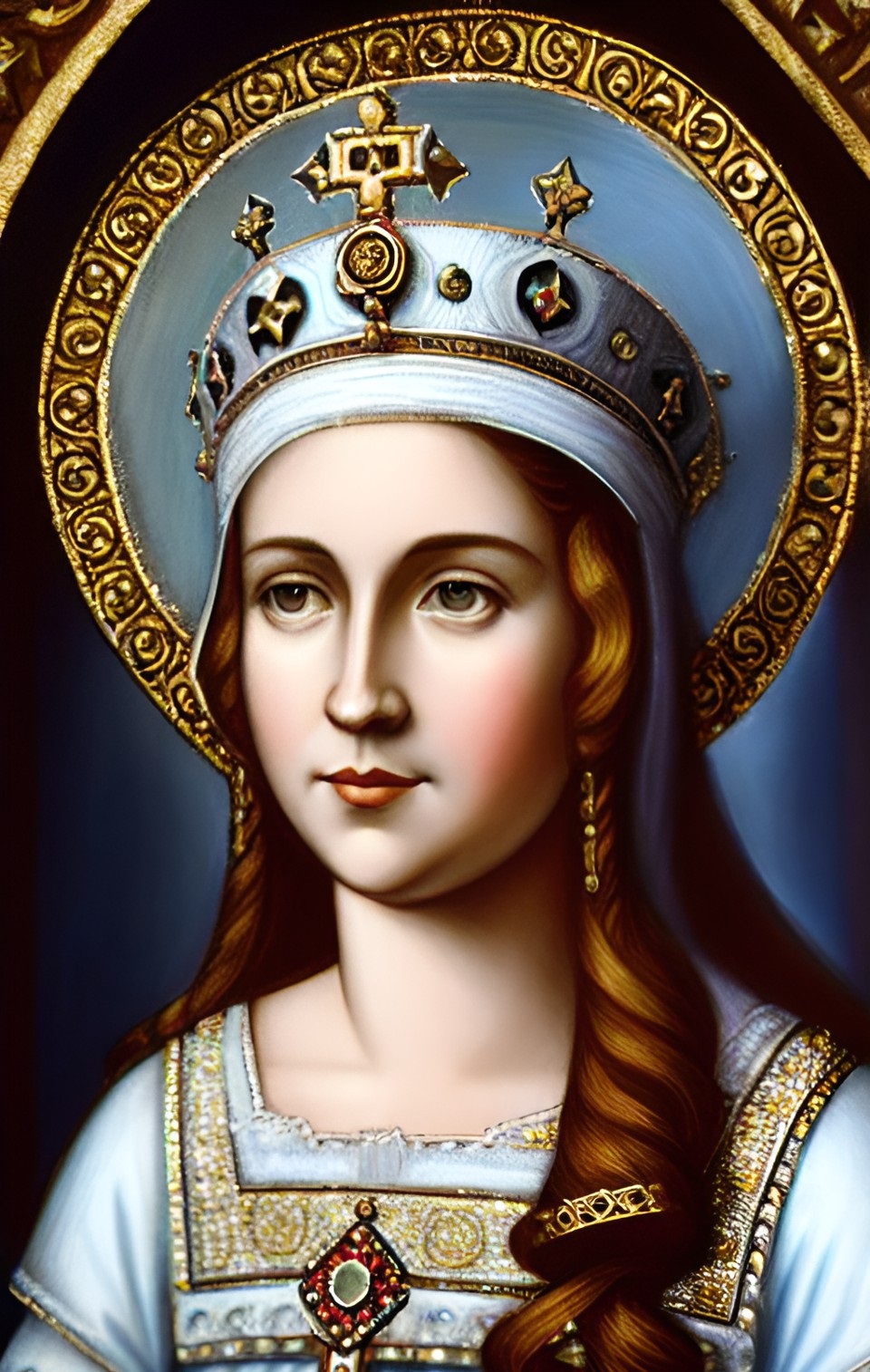 Catharine was the daughter of King Ferdinand V of Spain and of his spouse Isabella. Reared in piety and in the fear of the Lord, she was espoused as early as the sixteenth year of her age to Arthur, the eldest son of Henry VII of England. Arthur died within five months of their marriage, and Catharine wanted to return to her native country. But King Henry, who had taken a great fancy to her, urgently besought her to remain in England in order to become the wife of his second son, Henry. Since this was also in accordance with her parent's wishes, Catharine consented, and the papal dispensation for the marriage was requested.
Meanwhile, King Henry died, and his son ascended the throne as King Henry VIII. Soon afterward he celebrated his marriage with Catharine, who was then crowned with great pomp as queen of England. But her heart found as little delight in worldly dignity as that of the pious Queen Esther.
She always arose early in the morning, dressed as simply as her rank permitted, and wore the penitential garb of the Third Order of St. Francis which she had joined some time previously. Every morning she attended holy Mass and spent several hours in prayer. Every week she received the holy sacraments, and she fasted so rigorously that on the vigils of the feasts of our Lady, she partook only of bread and water. Withal, she expended great care on the education of her five children.
Blessed Catharine Queen of England
But King Henry shared not at all in the devout life of his spouse; rather, he gave himself up to all the gratifications of a luxurious life at court, and even conceived an adulterous affection for a young lady at court, Anne Boleyn by name. This affair was to occasion the greatest suffering for Catharine. Egged on by godless courtiers, Henry now indulged a dislike for his pious queen. He began to allege that his marriage with Catharine was null and void because the dispensation had not been validly issued. His intention was to marry Anne Boleyn. After a careful investigation of the matter, Pope Clement VII declared the marriage of the king with Catharine valid and insoluble. Now King Henry renounced his allegiance to the Catholic Church and declared himself the head of the Church in England; priests and people who were unwilling to admit his authority were executed or sent into exile.
The pious queen, who in nowise consented to the godless designs of her spouse, was cast off, and Henry married Anne Boleyn. Separated from her children, laughed at by her courtiers, Catharine repaired to a secluded spot where she sometimes suffered the want of things necessary to sustain her life. Yes, because of the persecution of the priests she did not even have the comfort of the holy sacraments. Though crushed with grief, Catharine, nevertheless, bore it all with the most perfect conformity to the will of God until her blessed death on January 6, 1536.
Consider what a difference there was between the day on which Catharine was crowned amid great splendor as the queen of England, and the day on which, cast off by the king and despised by her courtiers, she left the royal palace helpless and destitute. Yet, that sad day was more truly glorious in the sight of heaven than that first day. On the day of her coronation, the world undoubtedly praised Catharine as blessed; yet, how soon did this blessedness come to a sad end! When, however, she was going into exile, heaven pronounced her blessed: "Blessed are they that suffer persecution for justice's sake, for theirs is the kingdom of heaven."
Saintly Queen Catharine proved herself through prolonged constancy in suffering. Not only did she bear patiently the first attacks, when the king turned away from her; she remained constant also when the entire fullness of suffering came upon her along with her rejection. For years she persevered and bore the greatest tribulations without complaint or murmuring even unto her death, always resigned to the holy will of God. Thus, she obtained the heavenly crown, according to the words of St. Bernard: "The crown is offered to beginners, but it is given to those who persevere." But only such constancy and perseverance can ensure for us the eternal crown. Many people bear their sufferings courageously and resignedly in the beginning; but if the suffering increases, if they last a long time, they do not persevere, they despair and murmur against the designs of God. Only "he that shall persevere unto the end, he shall be saved." (Mt. 10,22)
Consider by what means saintly Queen Catharine preserved that constancy amid such suffering. In youth, she did not allow herself to be dazzled by good fortune and the glamour that surrounded her but directed her attention to heavenly things rather than to those of earth. Devout practices and love of mortification confirmed her still more in her life of faith. Even in her suffering, she was faithful to her pious practices, and so, with her attention directed more to the future than to the present, she could bear all with joy, while she reflected on the words of the Apostle: "The sufferings of this time are not worthy to be compared with the glory to come that shall be revealed in us." (Romans 8,18) If you wish to arrive at the glory of good Queen Catharine in eternity, then you must tread the same path, and God's mercy will also lead you to your goal.
*from The Franciscan Book of Saints by Marion A. Habig, OFM
---
Return to January Franciscan Calendar