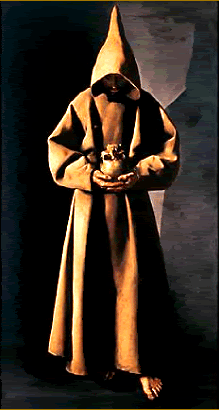 Blessed William Cufitella

Blessed William Cufitella of Scicli

(Beato Guglielmo Cufitella di Scicli)
Confessor, Third Order

Blessed William Cufitella was a nobleman at the court of the king of Sicily. Once while on a hunting trip with the king, he saw the king attacked by a boar and that his life was in danger. William rushed upon the wild animal and saved the king, but was himself severely wounded. The king expressed his gratitude and entreated him to ask a favor, offering him everything that it was in his power to grant. The incident had put William in a serious frame of mind, and he asked the king for permission to leave the court, for he wished to withdraw into solitude in order to devot himself to the care of his soul.
Consider how differently from the worldly-minded they who are spiritually enlightened judge concerning the favor of men. A worldly-minded man will use the favor of his king to obtain riches and places of honor; he will endeavor to establish himself ever more firmly in the favor of his prince. Placed in grave danger and enlightened with a heavenly light, Blessed William considered the favor of his king a hindrance in the service of God; he solicited for himself as an only favor that he might be allowed to forsake the court of the king.
---
---
After his request had been granted, he went to the hermit St Conrad of Piacenza, who at that time was living according to the rule of the Third Order near the city of Noto in Sicily. William also entered the Third Order and had himself instructed in all the practices and austerities of a devout hermit's life. He built himself a little hermitage in a forest near the village of Scicli, and there he lived only for God. In a neighboring church he performed the duties of a sacristan. He was always ready to advise and console the afflicted and sorowing who came to him. In answer to his prayers many a miracle occurred, for which reason he was venereated as a saint in the entire locality.
Blessed William Cufitella lived to the advanced age of ninety-five years. On the morning of his demise, April 4, 1404, he announced his departure to a pious citizen of Scicli. A few hourslater the bells of the church rang out without anyone's setting them in motion. The people went to the hermitage and found the lifeless body of the hermit on his knees surrounded by heavenly rays. He was buried in the church at Scicle. In the year 1537 Pope Paul iii permitted his feast to be celebrated there with ecclesiastical solemnity.
*for the Franciscan Book of Saints, Fr. Habig
---
---


Return to Saints Page

Return to Roman Catholic Saints Homepage