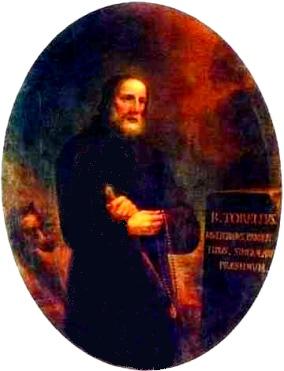 Blessed Torello of Poppi

Blessed Torello of Poppi
(Beato Torello di Poppi)

Feast Day – March 16


Born 1202 in the Tuscan town of Poppi, Blessed Torell of Poppi came from the noble family of Torelli. When he lost his parents at the age of eighteen, he was thinking of devoting himself to the service of God and gave generous alms to the poor. But he had two bad friends and was soon corrupted by their example and influence, so that he became the scandal of the town.
One day, when he was about thirty-six years old, Blessed Torello of Poppi was amusing himself with his associates at the game of bowling. During the game a cock perched on his arm and crowed three times. Torello took this as a warning from heaven, deserted his friends without delay, and went to confession to a priest at the abbey of San Fedele, one of the houses of the Vallombrosan Benedictines.
Torello then went into the nearby Cosentino mountains to look for a suitable place for a hermitage. After wandering around in the woods for eight days, he found a cave in a secluded spot called Avellaneto, not far from Poppi.
After purchasing the land around this cave and giving what remained of his property to the poor, he built a little hermitage at the cave and cultivated a small vegetable garden to provide himself with food. But he ate very little and fasted for days at a time. He limited his sleep to three hours daily, and slept on a bed of brushwood and thorny twigs. To overcome the persistent temptations of the flesh and the devil, he scourged himself unmercifully and sometimes immersed himself in freezing water.
---
---
Under his wollen habit he wore a shirt of pigskin from which only some of the bristles had been removed. He kept up this life of penance for about forty-five years; and as Wadding tells us, he became a member of the Third Order of St Francis in the fourth year of his conversion.
Like St Francis, he possessed a supernatural power over the wolves, of whom there were many in the Casentino mountains during the thirteenth century. He worked several miracles in behalf of children who were carried off by wolves, and for others who were attacked and bittn by wolves, both before and after his death. When he was eighty years old, Blessed Torello went back to the abbey of San Fedele to make a general confession of his whole life and to ask that his body be buried at the abbey.
Despite the entreaties of the monks that he spend his last days in their care, Torello returned to his hermitage, where another hermit, Peter of Poppi, had joined him. And there he died on March 16, 1282, while kneeling in prayer. He was beatified by Pope Benedict XIV.
At the tomb of Blessed Torello of Poppi in the abbey church, a man who was an exile from Siena prayed that he might be permitted to return to his native city. He promised to observe the feast of Blessed Torello every year and to have a picture of the holy hermit painted. His prayer was answered, and he engaged the services of an artist. But the latter had never seen Blessed Torello and did not know what to do. Then he had a dream or vision in which he saw Torello, wearing the habit of the Third Order and holding a wolf-cub in his arms. And this is how the painting represents Blessed Torello of Poppi.
from: The Franciscan Book Of Saints, ed. by Marion Habig, OFM
---
---


Return to Traditional Franciscan Calendar Page

Return to Saints Page

Return to Roman Catholic Saints Homepage