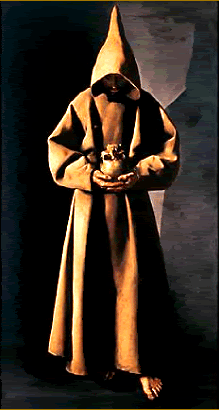 Blessed Timothy of Montecchio

Blessed Timothy of Montecchio

(Beato Timoteo di Montecchio)

Confessor, First Order

Timothy was born at Montecchio in the diocese of Aquila, Italy. From his earliest years he showed a decided tendency for spiritual things. To escape from the dangers of the world and to consecrate himself wholly to God, he entered the Order of Friars Minor at a very early age. Strict observance of the Franciscan rule was at that time being stressed with renewed fervor, and Timothy distinguished himself among his brethren by the extraordinary exactitude with which he applied himself to it. His outstanding virtues were humility, mortification, and patience, and he was favored by God with a high degree of the spirit of prayer.
After Blessed Timothy of Montecchio had been ordained to the priesthood, he celebrated Holy Mass with such reverence that one would have believed an angel was at the altar. It is recorded that almighty God favored him with special revelations during the sacrifice of the Mass. On one occasion he was offering Holy Mass to obtain for a novice the grace of perseverance in his vocation; at the elevation of the Sacred Host he received the assurance that is prayer had been heard. Another time, when he was offering the Holy Sacrifice for a prominent person who was very ill, it was revealed to him that a longer life would be granted the person if she would give up the vanity of dress to which she was much inclined.
---
---
The fuller blessing of the Holy Sacrifice depends on the devotion with which we assist at it. How various were the effects of the sacrifice of the Cross on those who stood around as witnesses! The penitent thief received the promise of heaven; his obdurate companion died in despair next to the altar of the Cross. The sincere heathen centurion received the grace to believe in Christ; the Jewish chief priests, who were filled with hatred and envy, mocked Him. Many of the people who had come to the place of execution out of curiosity and in a spirit of indifference, left the place in the same spirit; but many others, who gave careful thought to all that happened there, returned home penitent and striking their breasts. So will the results be at the renewal of the sacrifice of the Cross, at Holy Mass, according to the dispositions with which we attend it.
When Father Timothy attained his sixtieth year and had meanwhile given many proofs of holiness, he departed from this life in 1504 in the convent of the Friars Minor at Ocra.
Blessed Timothy of Montecchio was buried with special honors in the convent church there. Pope Pius IX approved the observance of his feast.
*from The Franciscan Book of Saints, by Fr. Habig, OFM
---
---


Return to Saints Page


Return to Roman Catholic Saints Homepage