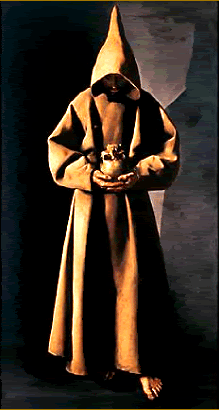 Blessed Theodoric Coelde

Blessed Theodoric Coelde
(Selig Theoderich Coelde)

Confessor, First Order


A certain picture of Theodoric bears the following true description of him:
"An extraordinary preacher, author of the first German catechism, angel of peace, hero of charity, illustrious both in life and after his death for his virtues and miracles."
The official acts of the order give him the title of Blessed, for the confirmation of which a petition has been sent to the Holy See.
Theodoric Coelde was born in 1435. He studied philosophy and theology in Cologne, and then joined the Canons Regular of St Augustine. But the sermons of an eloquent Franciscan made so deep an impression on the young Augustinian, that, like St Anthony of Padua, he resolved to become a Franciscan. He became a member of the province of Lower Germany, where religious observance was held in high esteem.
---
---
In 1489 an epidemic broke out in Brussels. During the two years that the disease raged, Father Theodoric ministered to the sick in a truly heroic manner. Neither lack of food, drink, and sleep, nor distance nor difficult roads could keep him from searching out the places where the plague had struck, in order to hear the confessions of the dying, give them Holy Communion, and administer extreme unction. Old records speak of thirty-two thousand dying persons to whom Theodoric was an apostle of charity during the two years of the plague.
He labored also with unusual success as an author. His works include meditations on the sufferings of Christ, a little work called Daily Interior Practice, and his Little Book of Devotions in the Love of Jesus and Mary. His Mirror for Christians was the first German catechism and achieved unusual fame. It appeared for the first time in 1470 in Brabant, and a thirty-fourth edition appeared in Cologne in 1708.
As a priest Theodoric possessed the special gift of settling dissensions and reconciling people who were at odds with each other. As a religious he did much to establish regular observance, and as superior of the convent of Brussels, he converted it, as Venerable Father General Francis Quinones declared, into a dwelling of saints.
On December 11, 1515, while preaching to the people, Blessed Theodoric Coelde mentioned that his death was near at hand. At noon he failed to appear at the community meal, remaining in his cell. One of the brethren was sent to see what was the matter, and found him there kneeling, with hands folded, but lifeless.
Blessed Theodoric Coelde was immediately venerated by the people as a saint, especially as a patron against contagious disease.
From: The Franciscan Book of Saints, by Fr Habig, OFM
---
---


Return to Saints Page

Return to Roman Catholic Saints Homepage