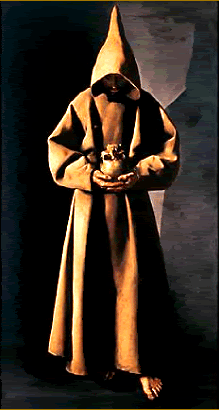 Blessed Robert Malatesta

Blessed Robert Malatesta
(Beata Robert Malatesta)

Confessor, Third Order


This devout Tertiary was a powerful prince in Italy. He died at a very early age, but in such consummate perfection that in the eyes of God he had lived a long life in the service of his Lord. He was the son of the prince of Rimini, Pandolph Malatesta, and was born in the year 1411.
At a very tender age Blessed Robert Malatesta denied himself dainty things, and took only the less appetizing portion of the food given him, so that the better part might be given to the sick poor. He also practiced all kinds of mortification with regard to clothing and rest at night. He was so devoted to prayer, that even in sleep he was often found with his hands crossed on his breast and his lips moving as if in prayer. When his uncle asked him on several occasions what he wished to be, the little fellow said: "I wish to be a poor man like Jesus."
His uncle was much please with Robert, and so when Robert's parents died, he adoped him as his heir. Although he would have preferred to give himself entirely to God's service, Robert was obliged to accede to his uncle's wishes and married the Princess Margaret of Este. His young wife, however, was also a devout person and they lived together in a very holy union. A year after their marriage, Robert's uncle died, and he became the independent prince of the domains of Rimini, Cesano, and Fano. He governed with justice and charity. He was a father to the poor, and often visited the sick in the hospitals, sometimes even waited on them personally.
---
---
It was about this time that he was interiorly instructed by St Francis, to whom he was tenderly devoted, to take the habit of the Third Order and consecrate himself in a special way to the service of God. On the feast of St Francis, he was clothed in the holy habit, and from then on practiced the rule of the Third Order very strictly. He prayed the divine office of the priests every day, observed fasts besides those prescribed, and received the holy sacraments often and with the greatest devotion.
Although externally living up to his rank, Blessed Robert Malatesta always wore the Third Order scapular and cord; and his heart remained humble and detached from the world. Once when he was engaged in prayer, our holy Father Saint Francis appeared to him and showed him his five wounds. Robert at once experienced the full pain of the wounds, and for a long time he remained kneeling with his arms outstretched in the form of a cross.
After a very painful illness, yet happy in anticipation of the joys of heaven, Blessed Robert Malatesta died in 1432 when he was but twenty-one years old. According to his express wishes, he was buried very simply and in the garb of the Tertiaries. God glorified his tomb by miracles. The title of Blessed has been conferred on him in popular devotion.
From: The Franciscan Book of Saints, by Fr Habig, OFM
---
---


Return to Saints Page

Return to Roman Catholic Saints Homepage