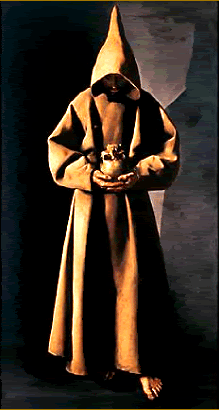 Blessed Raynier of Arezzo

Blessed Raynier of Arezzo
(Beata Raynier di Arezzo)

Feast Day – November 7


Raynier was born at Arezzo, Tuscany, of the noble family of the Mariani. From his earliest years he was noted for his piety and humility, and when he asked to be admitted into the Franciscan Order, he desired to be only a lay brother. His thought was that he might thus be unobserved by the world and in a better position to lead a life entirely hidden in God.
In his efforts to attain to sanctity Blessed Raynier of Arezzo took our Savior as his model, and his eminently virtuous life soon made him a model to all the brethren. It was a wise choice. Christ came into this world not only to redeem us, but also to enlighten us and to show us the way to heaven. That is why He speaks of Himself as the light of the world, and says: "I am the way, and the truth, and the life."
Blessed Raynier of Arezzo distinguished himself in a very pronounced way by fraternal charity, profound humility, perfect obedience, and truly evangelical poverty. That is why the servant of God Benedict of Arezzo, a missionary in the East, who had received the holy habit from the hands of St Francis himself and had been named provincial of Syria, chose Brother Raynier as his constant companion on his apostolic travels.
---
---
Brother Raynier also formed a close friendship with Brother Masseo, who had been a beloved companion of St Francis. He listened eagerly to whatever Masseo could tell him of the remarkable life and holy conduct of St Francis, and he strove to imitate the things he heard.
Blessed Raynier died a holy death in the year 1304 at Borgo San Sepoloero near Arezzo. His mortal remains rest there in the church of the Friars Minor Conventual, and are highly venerated by the people even to this day. In 1802 Pope Pius VII approved the veneration accorded to him for the previous five centuries and entered his name among the blessed.
Prayer of the Church:
O Lord Jesus Christ, who didst make Thy confessor Blessed Raynier admirable in imitating Thee and walking the hard road of humility, poverty, obedience, and patience, grant that we, through his intercession and by the imitation of his example, may live in a manner pleasing to Thee. Who livest and reignest forever and ever. Amen.
From: The Franciscan Book of Saints, Marion A. Habig, OFM
---
---


Return to Traditional Franciscan Calendar Page

Return to Saints Page

Return to Roman Catholic Saints Homepage