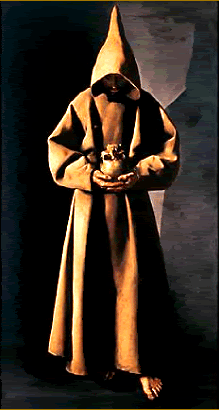 Blessed Peter of Treja

Blessed Peter of Treja
(Blessed Pietra Treja)

Feast Day - February 20


Blessed Peter of Treja was the son of pious parents at Treja, formerly called Montecchio, not far from Ancona. He was born about the time that St Francis died. Even as a child he was so intent on perfection that when he was asked on a certain occasion, "Well, little on, what do you intend to be?" he answered, "I want to be a saint."
Blessed Peter of Treja was no more than a young lad when he decided to escape the dangers of the world, and sought admission in the recently founded order of St Francis. Having stood his probation and made his religious vows, he went on to higher studies in which he made rapid progress.
As soon as Blessed Peter of Treja was ordained a priest, Blessed Peter of Treja was appointed to the task of preaching. He discharged this duty with great zeal, for, the honor of God and the salvation of souls was the only goal he had in mind. He venerated St Michael with special confidence as his patron in the struggle against hell. He had formed an intimate friendship with Blessed Conrad of Offida, which whom he lived for a time in the convent at Forano. They encouraged each other in holy zeal, and vied with each other in practicing virtue rather than in speaking about it.
---
---
Blessed Peter of Treja was often found in ecstasy at prayer and had frequent visions. St Michael once appeared to him and asked him what favor he could obtain for him for all his labor in saving souls. Peter replied humbly: "I ask only that you obtain for me the remission of my personal sins." He then received assurance from heaven that all his sins had been forgiven.
He cherished an ardent devotion for the sufferings of Christ. In his meditations, he represented them to his mind in so vivid a manner that they seemed to be enacted before his eyes. His whole body was so affected at the contemplation that he was often found hovering high in the air before the crucifix.
After a long life of labor and of rigorous mortification, Blessed Peter of Treja slept peacefully in the Lord, famed for the miracles he performed both before and after his death.
Blessed Peter of Treja died on February nineteenth; and his tomb in the Franciscan church at Sirolo near Ancona before the altar of the crucifix became an object of veneration from the beginning. In 1654 his remains were transferred to Treja; and in 1792 Pope Pius VI permitted his feast to be celebrated in the Franciscan Order.
*from: The Franciscan Book of Saints, ed. by Marion Habig, ofm
---
---


Return to Traditional Franciscan Calendar Page

Return to Saints Page

Return to Roman Catholic Saints Homepage