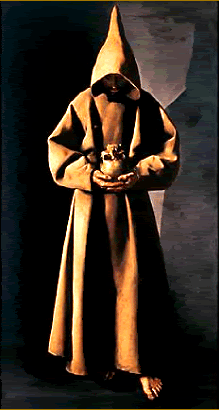 Blessed Peter Cresci

Blessed Peter Cresci

(Beato Pietro Cresci)

Confessor, Third Order

Like St Francis, Peter Cresci, who was born in or near Foligno some time during the second half of the thirteenth century, was a wealthy merchant's son. But as a youth he was far more of a worldling than the Poverello. Although his parents tried to make a good Christian of him, they were overindulgent; and as a result he became a spendthrift. Because he always had plenty of money in his pockets, he had no trouble in finding bad companions with whom he led a riotous life.
He was thirty years old when he completely changed his manner of life. His parents died at that time, and he was so deeply affected by this loss that the grace of God was able to make him realize the utter vanity of earthly possessions and pleasures. He sold the rich inheritance to which he had fallen heir, and gave all of his money to the poor. Henceforth he gained a livelihood as a laboring man, and even then gave away most of his earnings to the needy. For he subsisted on a very meager fare, and for weeks at a time he ate only dry bread and drank only water.
Having no home of his own, Blessed Peter Cresci usually took his night's rest on the bare floor of the belfry in the Church of San Feliciano. Often he spent the entire night in prayer and meditation.
Some time after his conversion, Peter joined the Third Order of St Francis; and frequently Blessed Peter Cresci made pilgrimages to Rome and Assisi. The Portiuncula Chapel of Our Lady of the Angels, which St Francis loved so much, was especially dear to him. Most people were greatly edified that Peter made amends for the excesses and bad example of his youth in such a drastic manner, but his former bad companions could not forgive him for deserting them and depriving them of the money with which he had so liberally supplied them. They accused him of heresy and managed to have him cited before an ecclesiastical court. However, it soon became evident that he was wholly innocent and his conduct was deserving only of the highest praise. God Himself showed by miracles how pleased He was with Peter's life of heroic sanctity.


After Peter's death on July 19, 1323, the people of Foligno began at once to turn to him as an intercessor in heaven. His cult as Blessed was approved by Pope Urban VI in 1385; but his feast is not observed by the Franciscan Order.
*from The Franciscan Book of Saints, Fr. Marion Habig, OFM
---


Return to Saints Page


Return to Roman Catholic Saints Homepage