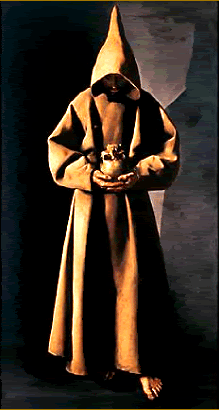 Blessed Peregrin of Falerone

Blessed Peregrin of Falerone
(Beata Peregrin de Falerone)

Confessor, First Order


Peregrine of Falerone in the Papal States was a colleague of Blessed Rizziero of Muccia, and like him the scion of a noble family. When, after a sermon preached by St Francis at Bolobna, both these young men asked him for the religious habit, St Francis said to Peregrin:
"You, my son, will serve God in the humble vocation of a lay brother, and you should apply yourself to practice humility in a special way."
For the young nobleman who, until now, had studied philosophy and jurisprudence with great success, it was a great trial that the vocation of a lay brother should be assigned to him. But Peregrin gave proof that he possessed true nobility of soul, and that he valued the lowest place in Christ's service higher than all the honors of the world. Joyfully he received the habit as a lay brother and strove, above all, to lay a firm foundation in humility. On this secure foundation he then built up all the other virtues in a high degree. One of the first disciples of St Francis did not hesitate to assert that Brother Peregrin was one of the most perfect religious in the whole world.
---
---
Moved by his great love for the sufferings of Christ, Peregrin begged permission to make a pilgrimage to the Holy Land, and his request was granted. There, with touching piety, he venerated the holy places. At the sites of Christ's suffering and on the road on which Our Lord carried His Cross he shed abundant tears of compassion and of love. Even the infidel Saracens could not suppress their emotion at the sight of him.
After his return to Italy, Blessed Peregrin of Falerone led a still more humble life in the seclusion of his vocation. When he met his distinguished relatives, which happened rarely, he spoke only of such things as could strengthen them in the service of God. Almighty God imparted to him the gift of miracles even in this life; and after his death he has continued to work many miracles at his grave in San Severino until our own day.
Several bishops petitioned Pope Pius VII for the Church's approval of the veneration paid to him from time immemorial. This was granted in the year 1821. It is said that persons call upon Blessed Peregrin of Falerone with special confidence and blessed results when suffering from toothache.
The Franciscan Book of Saints, by Fr Habig, OFM
---
---


Return to Saints Page

Return to Roman Catholic Saints Homepage