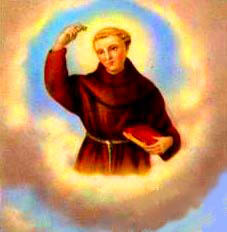 Blessed Pacific of Cerano

Blessed Pacific of Cerano
(Pacifico di Cerano)

Feast Day – June 5


Pacific was born at Cerano in northern Italy in 1424. At an early age he lost both his parents in a plague. As war was raging and every man had more than enough to do to take care of his own family, the poor little orphan boy might have met a cruel fate had not our heavenly Father Himself cared for him. He touched the heart of the Benedictine abbot in the neighboring city of Novara, and the latter interested himself in the boy, seeing to it that he received an excellent education.
Hardly had Pacific arrived at young manhood, when the abbot died. But God's providence had already prepared a new home for him. The young man felt himself attracted to the Order of St Francis, and was admitted in the convent at Novara. There he devoted himself with great zeal to the study of perfection and the pursuit of knowledge. In both he was blessedly successful.
---
---
After he was ordained a priest, Blessed Pacific of Cerano was assigned to the office of preaching. In a truly apostolic spirit he applied himself to this duty with such power that in Novara and its vicinity a noticeable change in public morality set in. Pacific was especially successful in reconciling longstanding enmities and in settling feuds. With great love he also interested himself in the poor and the afflicted. Believing that devotion to Mary is an effective means to obtain results in the care of souls, he introduced a Marian Sodality. In his birthplace he had a special chapel built in honor of the Mother of God, in which the meetings of the sodality were held.
By word and example Pacific was also active in furthering religious order and discipline. For this purpose he also wrote a special rule of life which was named after him the "Pacifica," that is, the way of peace.
Amid such extensive activity he was nevertheless so humble that he was always at the service of everyone, and so cheerful that he made everyone who associated with him happy. Because of his virtue and ability, Pope Sixtus IV chose him as his legate on important business to the Island of Sardinia. This apostolic work was destined to be the last rendered by the servant of God. After successfully accomplishing the papal commission, he died at Sasari in Sardinia on June 4, 1482, being eighty-five years old.
In his last sermon before his departure, given in his chapel of our Lady, he told the inhabitants of Cerano that they would not again see him alive, but that he would like his remains to rest in their midst in the sanctuary of the Blessed Virgin. And thus it happened. His body was buried there.
After Pope Benedict XIV beatified Blessed Pacific of Cerano, a beautiful church in honor of Blessed Pacific was built adjoining the chapel of our Lady.
From: Franciscan Book of Saints by Marion Habig, OFM
---
---


Return to Traditional Franciscan Calendar Page

Return to Saints Page

Return to Roman Catholic Saints Homepage