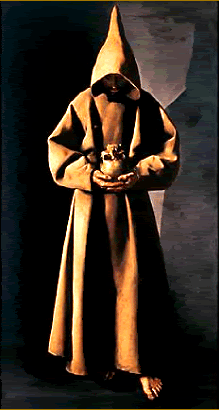 Blessed Novellon of Faenza

Blessed Novellon of Faenza
(Beata Novello di Faenza)

Feast Day – August 13


In the great family of saints the shoemaker stands next to the king's son, and the penitent who has atoned for the errors of his earlier life may associate with the innocent man who has never lost the grace of God.
Born of devout parents at Faenza, Italy, Novellon learned the trade of a shoemaker, but his bad conduct caused great grief, especially to his good mother. He married when he was quite young, and it was hoped that now at least he would change his ways; but he continued in the same bad habits, inflicting still greater pain on his family. His mother, however, prayed and sighed without ceasing that the good Lord, who consoled the widow of Naim by raising her son to life, would also raise her son from a spiritual death to a new life.
The prayers and tears of the mother did not remain unanswered. Because "affliction leads to understanding" (Is. 28,19), Almighty God caused Novellon to become seriously ill. The nearness of death opened his eyes; he reflected on his past years, grace touched his heart, and with bitter tears of true contrition he vowed that if he recovered he would lead a penitential life. He also resolved to make a pilgrimage to the tombs of the holy Apostles Peter and Paul at Rome, and to the tomb of St James at Compostela.
---
---
A few days later Novellon recovered his health as if by a miracle. He was then only twenty-four years old, but he remained faithful to his promise even up to an advanced age.
From that time on, prayer and work were his daily occupation. Mindful of the words, "Alms purge away sins" (Tob. 12,9), Blessed Novellon of Faenza retained only so much of his wages as was necessary for his support, and the remainder he divided among the poor and the sick. In the beginning his wife, who was somewhat anxious over their temporalities, was much vexed at this liberality, but when she saw the great blessings that attended her husband's charity, she gave full consent.
Novellon severely chastised his body for the sins of his past life and amid great hardships undertook the pilgrimage he had promised to make. He made several trips to Compostela. After giving the most edifying example of penance and every other virtue for a space of fifty-six years, Blessed Novellon of Faenza died peacefully in the Lord in 1280. God glorified him in life and in death by miracles. With the approval of the pope his native town celebrates his feast, and shoemakers have chosen him for their special patron.
From: The Franciscan Book of Saints, Marion A. Habig, OFM
---
---


Return to Traditional Franciscan Calendar Page

Return to Saints Page

Return to Roman Catholic Saints Homepage