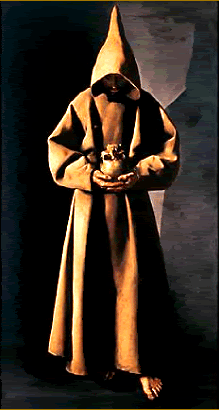 Blessed Mark of Montegallo

Blessed Mark of Montegallo

(Beata Marchio di Montegallo)

Feast Day – March 17


Blessed Mark of Montegallo was the scion of a distinguished family of Montegallo in the diocese of Ascoli. He was extraordinarily devout already in his youth, and undertook the study of medicine in order to be able to assist the sick poor. He received his doctor's degree at the University of Bologna.
At the urgent wish of his father he entered the married state although he would rather have completely severed himself from the world and the things of the world. Not long afterwards his father and mother died. Again the devout longing for the religious state seized him. When he confided the fact to his wife, she told him she was of the same mind, and so both of them yielded to their pious desire, Mark entering the convent of the Friars Minor, and his wife joining the Poor Clares at Ascoli.
In a very short time Mark displayed all the virtues that are distinctive of a true Friar Minor, so that as soon as he was ordained to the priesthood, his superiors placed him in charge of the community at San Severino. There he set a most extraordinary example in mortification, prayer, and works of charity. One day, while deeply absorbed in prayer, he heard a voice which said:
"Brother Mark, go out and preach charity!"
That was, indeed, a call from heaven, in compliance with which he now labored unceasingly during the space of forty years as a missionary.
The principal topic of his discourses was the love of God and neighbor, always a most timely one, but notably at that time, for Italy was torn by factions that caused the inhabitants of almost every town to be at variance with one another.
---
---
Mark's words, animated by true charity, affected them in an unusual way and produced the blessed fruits of peace and harmony. However, he did not only preach charity, he also practiced it and thereby induced others to follow his example. He knew just how to influence wealthy people generously to support the poor, and he was instrumental, wherever he perceived the need for it, in establishing people's banks of the kind called "Mounts of Mercy," in order to protect the people of moderate means from the hands of usurers.
Frequently God blessed Blessed Mark of Montegallo's undertakings in a remarkable way. The plague had broken out in Camerino. Every day the terrible epidemic claimed new victims, and the entire citizenry was seized with a mortal fear. Father Mark went out among them like an angel of consolation sent by heaven itself. He rendered aid wherever he could; but as a physician of souls, he gave a sermon in which he told the people that the deadly plague came to them as a punishment for their indifference and their sins. If they would sincerely repent of their sins, God would withdraw the scourge.
His admonition touched their hearts, they besought God for mercy, and were sincere in their conversion; soon the disease abated. Mark was well nigh seventy years old when he conducted the Lenten sermons at Vicenza. About the middle of Lent he was seized with diphtheria, which brought him to death's door within a few days.
After he had received the last sacraments, he had someone read him the history of the sufferings of our Lord. At the words: "He bowed His head and gave up the spirit," Blessed Mark also bowed his head and surrendered his soul into the hands of his Maker on March 19, 1497.
Immemorial devotion to Blessed Mark of Montegallo was sanctioned by Pope Gregory XVI.
from: The Franciscan Book Of Saints, ed. by Marion Habig, OFM
---
---


Return to Traditional Franciscan Calendar Page

Return to Saints Page

Return to Roman Catholic Saints Homepage