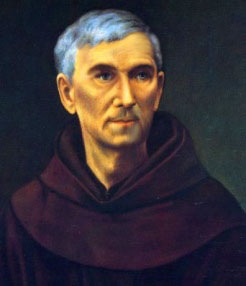 Blessed Louis of Casoria

Blessed Louis of Casoria
(Luigi di Casoria)

Feast Day – March 15


Louis has been called a newly risen St Francis, especially because of his touching charity and his invincible trust in God. Casoria, near Naples, was the place where he was born in the year 1814. As a traveling cabinetmaker, the eighteen-year-old boy sought admission among the Franciscans. When he had completed his studies for holy orders, he was assigned to the task of teaching philosophy, physics, and mathematics to the young clerics. God, however, had chosen Blessed Louis of Casoria to be an apostle of charity.
At first Father Louis opened a dispensary for the poor. Then he founded two colleges, for boys and girls who were ransomed in Africa, and were to be educated as missionaries to their countrymen. Besides these, he founded also a college for the children of the nobility, and a half-dozen other institutions, for orphans, the deaf and dumb, the blind, for old people and for travelers.
In order to secure capable helpers, Blessed Louis of Casoria founded the "Grey Brothers" and the "Grey Sisters" from among the members of the Third Order. Wherever help was needed or any form of distress was to be alleviated, Father Louis was the first at hand to render aid.
To celebrate the seventh centenary of the birth of St Francis in 1882, he invited five thousand poor persons to dine with him. Louis Pecci, a nephew of Pope Leo XIII, who was a witness to this singular banquet, asked the generous host in astonishment how he had obtained the means to support all his foundations and organizations. "That I am not permitted to know," was the remarkable yet the only correct answer Louis could give.
---
---
So it was indeed. He considered himself not the originator of these projects, but rather the tool for carrying out the will of God, in the measure in which God wished it and the manner in which God arranged it. While Louis needed enormous amounts of money, he was generally not in possession of a cent. Then he would say: "On the appointed day Christ will pay."
A piece of property adjoining a church was to be sold at public auction to the highest bidder. Some sect was about to acquire it. Father Louis ordered his agent to buy it. "How high a price can we pay?" asked the agent. Father Louis answered unperturbed:
"There is no limit. One soldo is worth as much to me as a million, for I possess neither. But God is very wealthy and you will see, He pays promptly."
And God paid!
Finally, after a lingering illness of nine years, this Franciscan friend of mankind went home to his generous Lord. It was on March 30, 1885.
from The Franciscan Book of Saints, edited by Marion Habig, OFM
---
---


Return to Traditional Franciscan Calendar Page

Return to Saints Page

Return to Roman Catholic Saints Homepage