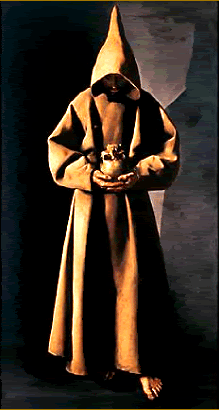 Blessed Liberatus of Lauro

Blessed Liberatus of Lauro
(Beata Liberatus di Lauro)

Feast Day – Sepember 6


Liberatus of Lauro was a count belonging to the noble family of the counts of Brunforte in the March of Ancona. The glory of the world held no attraction for him, and so he left the castle of his forebears and repaired to the solitary little convent of Soffiano where he was invested with the Franciscan habit and consecrated himself entirely to the service of God.
With the consent of his superiors, he led a wholly contemplative life after he was ordained a priest. He was very strict with his body, but his soul was so intimately united with God in heavenly sweetness during prayer and meditation that he often spent whole days and nights in contemplation without even thinking of food and drink or experiencing sleepiness. He became a living model to his brethren, and they were greatly edified by his conduct.
Blessed Liberatus of Lauro rarely spoke; but when he was obliged to answer questions put to him, it seemed as though an angel spoke and not a man. God favored this contemplative soul with very special graces; during his mediations he was sometimes rapt in ecstasy and streams of light radiated from his countenance while his heart experienced a foretaste of the joys of heaven.
Worn out by the ardor of his love and by the austerities he practiced rather than by age, he saw his end approaching. In his last moments he spoke to the brethren, who had assembled around his deathbed, on the joys of heaven which he hoped he would shortly possess. He died about the year 1260.
The place where his body rests was named San Liberato in his honor, and it has been the scene of many miracles. Pope Pius IX approved his veneration in 1868.
Prayer of the Church:
O Lord Jesus Christ, who didst inspire Blessed Liberatus to withdraw from the vanities of the world and to take up his cross and follow Thee, mercifully grant that imitating his example we may despise the perishable things of life and serve Thee with pure hearts. Who livest and reignest forever and ever. Amen.
From: The Franciscan Book of Saints, Marion A. Habig, OFM
---


Return to Traditional Franciscan Calendar Page


Return to Saints Page


Return to Roman Catholic Saints Homepage