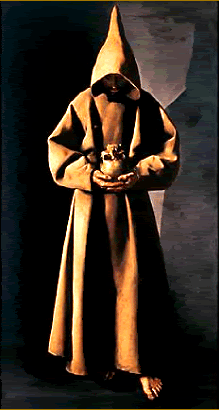 Blessed Lawrence of Villamagna

Blessed Lawrence of Villamagna
(Beata Lawrence di Villamagna)

Feast Day – June 14


Lawrence was born May 15, 1476, at Villamagna, a large country estate near Ortona in the Abruzzi, Italy, of parents who were distinguished not only for the nobility of their birth but equally much for the virtue of their lives.
At an early age Lawrence decided to join the Franciscan Order and took the habit in the convent of Our Lady of Grace in the city of Ortona. His father was much displeased at this step and had his son seized and locked up. When presently, however, his father became more composed, Lawrence succeeded in overcoming his objections, and returned in hast to the convent where he was professed in the Order of the Friars Minor.
After his ordination to the priesthood, he preached all over Italy with remarkable success. In this ministry he converted very many people by his words and example. Indeed it was less because of the eloquence of his speech, than by reason of the sanctity and austerity of his life and his devotion to prayer. God favored him with the gift of prophecy. He was greatly venerated by the people, who proclaimed him a saint.
---
---
Finally, while he was conducting the Lenten sermons at Ortuna, Blessed Lawrence of Villamagna was stricken in the pulpit. Within a short time he died in the Lord on June 6, 1535. Consider that a sudden death is not necessarily anything tragic. It may be a blessing and a reward for a life that has been spent in holiness. Our good God spares such souls the agony that usually accompanies death. They do not have to witness the grief of loved ones standing by, they are spared the struggle with the angel of darkness nor to the pangs of lengthened agony. Truly such a death may be called a gift from God.
The veneration always tendered Blessed Lawrence was confirmed by Pope Pius XI on February 28, 1923.
Prayer of the Church:
O God, who dost gladden us through the merits and intercession of Blessed Lawrence, They confessor, grant, we beseech Thee, that we who ask Thy benefits may obtain Thy graces. Through Christ Our Lord. Amen.
From: Franciscan Book of Saints by Marion Habig, OFM
---
---


Return to Traditional Franciscan Calendar Page

Return to Saints Page

Return to Roman Catholic Saints Homepage