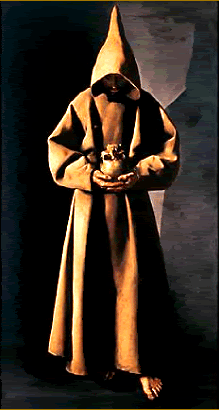 Blessed Julian of Valle

Blessed Julian of Valle

Confessor, First Order

Julian belonged to the ancient family of the Cesarelli at Valle in Istria. In the convent of his native town he was invested with the habit of the Poor Man of Assisi, and soon distinguished himself among his brethren for rigid observance of the holy rule and deep spirituality.
As a priest he labored like an angel of peace to reconcile the various political factions in the city and country. He worked with tireless zeal and spared himself in nothing, if he could pacify the hearts of angry partisans and lead them on the road of salvation.
Blessed Julian of Valle understood that peace is an inestimable blessing, and so he directed all his efforts toward the one end of moving warring factions to peace. Not without reason did our Lord give the injunction:
"In whatsoever house you enter, first say, Peace be to this house."
Finally, after he had advanced in years and virtue, he passed on to meet his Lord, in the convent of St Michael at Valle, the same convent in which he had been invested, about the middle of the fourteenth century.
His grave has been glorified by God by many miracles, so that his countrymen have chosen him for their patron. Pope Pius X confirmed the veneration paid to him.
---
---
There is a crying need in these disrupted and troublous times for good people to unite in storming heaven with the prayer, "Lord, give peace in this our day!" It is time to plead with great fervor at Holy Mass: "Lamb of God, give us Thy peace!"
Prayer of the Church:
O God, from whom are all holy desires, right counsels, and just works, give to Thy servants that peace which the world cannot give, that our hearts being devoted to keeping Thy commandments, we may come to sincerely love Thee and be good examples to our brothers. Through Christ Our Lord. Amen."
*from The Franciscan Book of Saints, Fr. Marion Habig, OFM
---
---


Return to Saints Page

Return to Roman Catholic Saints Homepage