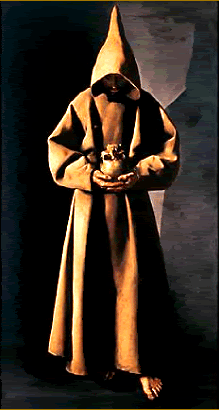 Blessed Julian of Germany

Blessed Julian of Germany
(Selig Julian von Deutschland)

Confessor, First Order


We do not know in what place in Germany Blessed Julian was born. He himself wanted to forget his home and country so that, unknown and undisturbed, he could serve God more perfectly in Italy. He entered the Franciscan Order in Aquila at the time St Bernardine of Siena died there. Julian lived a very strict life as a friar and a priest. In the forty years he spent in religious life, he never partook of meat or wine; his only sustenance was bread with herbs, and water was his drink.
Although he possessed great intelligence, he was so humble that he never permitted it to be noticed. He shuddered at holding an office to which honors were attached; still, he was obliged to accept the office of provincial in the province of St Bernardine when he was sixty years old. Because he administered this office in so praiseworthy a manner, his confreres were going to re-elect him; but his tears, prayers, and remonstrances finally prevailed upon them to elect someone else of the position.
---
---
Father Julian never wearied of activity in the confessional. By means of solid knowledge, zeal for souls, and piety, he achieved remarkable success as a spiritual director. Blessed Julian of Germany knew the great benefits of this sacrament, of which St Anthony of Padua said: "In sermons the seed is sown, in the confessional the fruit is gathered in." The remainder of his time he spent in prayer and contemplation, during which he was favored by God with extraordinary graces.
Blessed Julian of Germany died in the odor of sanctity on September 30, 1486, in the seventy-sixth year of his life. A magnificent tomb was prepared for him in the church of St Bernandine in Aquila, where several miracles were wrought. The title of Blessed has been conferred on him in popular devotion.
Prayer of the Church:
Give ear, we beseech Thee, O Lord, to the prayers of Thy suppliant people, and punish us not for our sins, which we confess before Thee, but in Thy mercy grant us both pardon and peace. Through Christ Our Lord. Amen.
From: The Franciscan Book of Saints, by Fr Habig, OFM
---
---


Return to Saints Page

Return to Roman Catholic Saints Homepage