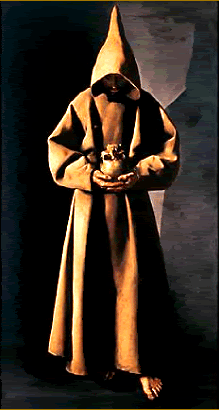 Blessed John of Peace

Blessed John of Peace
(Beato Giovanni della Pace)

Feast Day - November 12


John Cini was the son of distinguished parents, and was born at Pisa in the year 1353. He was a soldier by profession, and at one time joined other citizens of his native town in a war against the Florentine republic. The company to which he was attached fell into an ambush laid by the enemy. Nearly all of his companions were slain, and it was only by a special dispensation of Providence that he escaped unharmed. Filled with gratitude for this favor, he vowed to spend the remainder of his life in the service of God. But since the ties of matrimony prevented him from entering a convent, he joined the Third Order of St Francis. From that time he lived a strict penitential life, wore a heavy iron chain as a belt next to his body, and practiced many other forms of mortification. The greatest part of his time was spent in works of piety and charity.
Blessed John of Peace founded a pious society at Pisa, the members of which contributed regularly to a common fund which was secretly distributed to poor people who were ashamed to beg. He succeeded in implanting so solid a spirit of charity in this confraternity, that as long as the organization existed, which was up to the disturbances of the French Revolution at the end of the 18th century, this noble work was continued.
---
---
God Himself wished Blessed John of Peace to care for the timid poor, searching out bashful poor people, and secretly bringing them alms, all of which he could not have done if he had been in a convent.
John died a blessed death on Novermber 12, 1433, and was buried in the cemetery at Pisa. His fellow citizens erected a manificent memorial over his grave, and the faithful went there in great numbers to invoke his intercession with God. In 1856 his remains were transferred to the church of the Friars Minor Conventual at Pisa, and Pope Pius IX confirmed his veneration. The feast of Blessed John Cini or Blessed John of Peace, as he is more often called, is celebrated on November twelfth by the Franciscans. Prayer of the Church:
O God, who didst make Blessed John illustrious by his spirit of penance and unusual charity, grant us, Thy servants, that following in his footsteps, we may check the desires of our bodies and souls, show mercy to the poor here on earth, and thereby merit to receive the imperishable crown of mercy in heaven. Through Christ Our Lord, Amen.
From: The Franciscan Book of Saints, Marion A. Habig, OFM
---
---


Return to Traditional Franciscan Calendar Page

Return to Saints Page

Return to Roman Catholic Saints Homepage