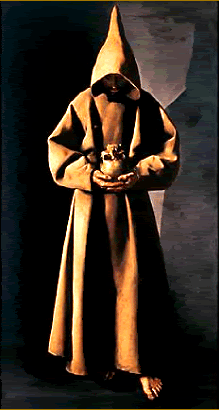 Blessed John of La Verna

Blessed John of La Verna

(Beato Giovanni della Verna)

Confessor, First Order

John was born at Fermo in Italy in 1259, and gave indications of extraordinary piety even during his childhood. At the age of seven, it was noticed how he sought out secluded places to pray to our crucified Lord. Desirous of sharing His sufferings, John practiced rigorous penances. He scourged his tender and innocent body, wore a sharp iron girdle, and fasted three times a week. When he was ten years old, he was placed under the direction of the Canons Regular in Fermo; and at the advice of his confessor, he joined the Franciscan Order at the age of thirteen.
It was not long before he distinguished himself among his brethren as a model religious. Because of his unusual spirit of penance and devotion, he was permitted to go in 1290 to the secluded convent on Mount La Verna. John lived here for about forty years, up to his death; and for this reason, he has been given the surname of La Verna.
Blessed John of La Verna was eager in performing the strictest sort of mortification as the children of the world are bent on amusement. His cell was a cave on the windy side of the mountain which was exposed to every inclemency of the weather. He slept on the bare earth, and used a stone for a pillow. He fasted uninterruptedly and scourged his body mercilessly. However, he did not place his trust in these penitential acts, but rather in the merits of the sufferings of Christ. But he did wish by his penances to make himself conformable to our suffering Savior, according to the words of the Apostle. Like his holy Father Francis, he spent whole nights in meditating on our suffering Savior. On one occasion our holy Father appeared to him and offered him his wounds to kiss. John did so and received the sweetest consolation.
---
---
For three months John was favored with the companionship of his guardian angel who appeared to him in human form and conversed with him on the sufferings of Christ and the joys of heaven. John also had great sympathy for the souls in purgatory, especially after he became a priest. On All Souls' Day, while elevating the Sacred host during Holy Mass, he prayed very fervently for their release; then of a sudden he saw a great cone of light consisting of innumerable glowing sparks ascend to heaven.
His holy life and heavenly inspirations attracted many devout souls to his cell on the cliff of La Verna. Even the German Emperor Henry VII stopped with his suite on his way to Rome and was so edified by his conversation with John that he took La Verna under his special protection.
By divine inspiration Blessed John of La Verna left his beloved solitude during the last few years of his life, in order to preach penance in the more important towns of Italy. He was thus instrumental in the conversion of many sinners. His approaching death was revealed to him while he was in Cortona, and he hastened back to la Verna.
A few days later Blessed John of La Verna surrendered his soul to God on August 9, 1322. Many miracles occurred at his grave, and in 1880 Pope Leo XIII approved the veneration which had been paid to him from time immemorial.
*from The Franciscan Book of Saints, by Fr. Habig, OFM
---
---


Return to Saints Page


Return to Roman Catholic Saints Homepage