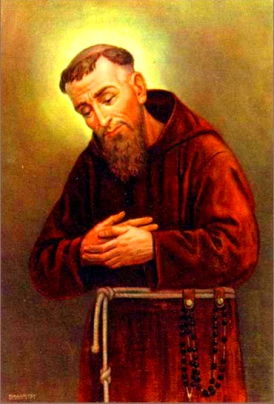 Blessed Innocent of Berzo

Blessed Innocent of Berzo
(Blessed Innocent de Berzo)

Feast Day – March 3


This saintly and wise educator of youth, Blessed Innocent of Berzo, came from Niardo and was a secular priest before his entrance into the Capuchin Order. On April 16, 1874, when he was already thirty years old, he received the habit of St Francis and soon attracted the attention of all by his extraordinary virtues. He was appointed assistant novice-master, and director of the candidates for the order.
It was a fortunate choice, especially as Father Innocent followed the educational principles of St Francis. He paid due attention to exterior mortification, especially to bridling the tongue and to religious decorum. Interior mortification, however, he looked upon as the all-important thing, realizing that external discipline without interior compliance is hypocrisy and unwelcome tyranny, which in time degenerates into outright perversity. With real prudence he often said with St Francis:
---
---
"Let everyone pay attention to his own nature. For, while one person can get along with less indulgence, I would not have another, who requires more, try to imitate him; but rather let him take his own nature into account and grant it what it truly needs. Just as we must guard against superfluity of food, so must we beware of too great abstinence. God wants mercy, not sacrifice."
Charity was the soul of his educational methods. He loved his pupils, and they loved him. Teacher and pupils were united in the bond of most intmate understanding.
Blessed Innocent of Berzo died on March 3, 1890. His hallowed remains rest with the Capuchins in Berzo. The process of his beatification was begun under Pope Benedict XV.
*from: The Franciscan Book of Saints, ed. by Marion Habig, ofm
---
---


Return to Traditional Franciscan Calendar Page

Return to Saints Page

Return to Roman Catholic Saints Homepage