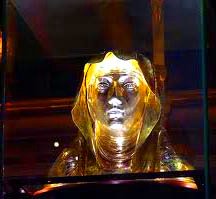 Blessed Humiliana Cerchi

Blessed Humiliana Cerchi
(Umiliana de' Cerchi)

Feast Day – June 7


Humiliana was a descendant of the ancient noble family of the Cerchi, and was born in Florence in 1219. From her earliest childhood she was much given to all works of piety, and those who knew her were convinced that she was called for the service of God rather than for the world.
But her father, who had six daughters and twelve sons, and aimed through their alliances to increase the power and reputation of his house, promised Humiliana in marriage to a nobleman when she was but sixteen years old. The humble daughter submitted to the wish of her father and married the nobleman, who proved to be entirely unworthy of her. He was miserly and avaricious, and dealt harshly with his young wife. But she retaliated only with meekness, patience, and charity, seeking consolation with God and in works of charity towards her neighbor.
Her heroic virtues shone forth when her husband fell dangerously ill after five years of married life. She not only nursed him, in a spirit of sacrifice, until his death, but she ceded the entire family fortune to her husband's relatives, with the single condition that they make restitution for all the injustices he had committed.
She then withdrew to her father's house. But when he kept urging her to contract a second marriage, she left the house and family. She now received the habit of the Third Order, becoming the first Tertiary in Florence, and led an unusually austere life in her retirement. She never left her solitude except to visit the churches or to render services of charity to the poor and sick.
---
---
Since her father could not have his way with her so far as his worldly plans were concerned, he strove to deprive Blessed Humiliana Cerchi of whatever property rights she still possessed. He succeeded. But, guided by her excellent confessor, Father Michael Alberti, Humiliana was so strengthened in the spirit of our holy Father St Francis that she rejoiced in being able to fulfill to the letter what our Lord requires when He says: "He who does not renounce all that he possessed, cannot be My disciple." She only deplored the fact that she could no longer assist the poor. But here, too, she knew how to manage. She was not ashamed to go out begging, and then she distributed the alms among the poor.
In her many tribulations God almighty comforted His servant with extraordinary graces. At prayer she was rapt in ecstasy for hours, sometimes even for days. Once she pleaded, out of heroic charity, to take upon herself the severe pains of a sick person.
When that person was relieved and Blessed Humiliana Cerchi lay on her couch of suffering amid severe pain, our Divine Lord appeared to her, and with the Sign of the Cross restored her to health again. Her own daughter, who had been reared by her husband's relatives and who had died, she raised to life again. But still more astonishing was the marvelous patience with which she so meekly bore all the reproaches of her relatives no less than the impudence of her own maid.
The ardent longing for God with which her heart was aglow, was soon to be gratified. In her twenty-seventh year Blessed Humiliana Cerchi fell seriously ill and felt that her end was near at hand. When her confessor, under whose wise direction she had remained the victor in all her struggles, besought her to be mindful of him after her death, she told him that it would not be necessary for long, because he would soon follow her. And so it happened.
With her confessor at her bedside, Blessed Humiliana Cerchi departed blessedly in the Lord on May 19, 1246. Immediately she was honored by the people as a saint. Pope Innocent XII sanctioned this veneration.
From: The Franciscan Book of Saints, Marion A. Habig, OFM
---
---


Return to Traditional Franciscan Calendar Page

Return to Saints Page

Return to Roman Catholic Saints Homepage