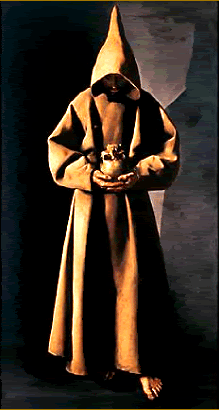 Blessed Hugolinus Magalotti

Blessed Hugolinus Magalotti
(Beata Hugolinus Magalotti)

Feast Day – December 11


Hugolinus was a scion of the famous and noble family of the Magalotti. He was born toward the close of the fourteenth century on an estate near the city of Camerino, Italy. His mother died while he was still quite young, but his excellent father was deeply concerned about the education of the boy, so that nothing was left wanting. By his obedience, affection, and other virtues Hugolinus gave much joy to this father. His lively temperament caused him many a struggle, but the guidance of his father and the grace of God helped him overcome his evil inclinations.
As he grew older, Hugolinus applied himself to the study of the sciences. Spiritual books, however, held the greatest attraction for him. He read them constantly, impressed their lessons on his mind and heart, and regulated his life accordingly. He did not speak much, but his example edified everybody.
After his father died, the youth thought he heard addressed to him the words of our Lord to the rich young man: "If you wish to be perfect, go, sell what you have, and give to the poor" (Mt. 19,21). Hugolinus did not hesitate a moment. He sold all his possessions and divided the proceeds among the poor, particularly the widows and orphans. Stripped of all material things, Blessed Hugolinus Magalotti withdrew to a hermitage, where he led a truly celestial life. Prayer and meditation were the nourishment of his soul; and on his body he imposed the severest fasts and mortifications.
---
---
The enemy of virtue did not neglect to attack him severely. One time he would tempt him by stirring up sensual desires and reminding him of the pleasures he could enjoy out in the world. At other times he would frighten him by appearing to him in horrible forms. But Hugolinus proved to be a good soldier of Jesus Christ; prayer, penance, and especially trustful appeal to the Immaculate Mother of God, made him victorious in every struggle.
God rewarded the fidelity of His servant with extraordinary favors. Enlightened by God, he gave advice and consolation to the faithful, who appealed to him in great numbers. He miraculously restored health to many sick persons.
When Blessed Hugolinus Magalotti perceived that his end was drawing near, he became even more intimately united with God. Having received the last sacraments several times, he died peacefully in the Lord in 1373. His body was laid to rest in the church of St John the Baptist at Figni, Camerino, and immediately the people began to venerate him. This veneration was approved by Pope Pius IX, and Pope Leo XIII permitted his feast to be celebrated.
From: The Franciscan Book of Saints, Marion A. Habig, OFM
---
---


Return to Traditional Franciscan Calendar Page

Return to Saints Page

Return to Roman Catholic Saints Homepage