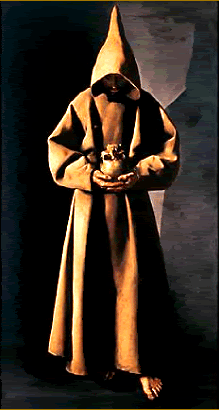 Blessed Hippolyte Galantini

Blessed Hippolyte Galantini
(Beata Hippolytus Galantini)

Feast Day - March 20


The parents of Blessed Hippolyte Galantini were simple laborers of Florence. The father was a weaver, whose scanty income was hardly sufficient to provide for the daily sustenance of his family. Their chief riches consisted in their probity and virtue.
Their son, Hippolyte, however, was destined to prove a veritable treasure to them. He was remarkable for his obedience and kind-heartedness, which caused him to be beloved by his parents and all with whom he came in contact. He might have been taken for an angel in human form. When he was five years old, he would gather the little children of the neighborhood about him, mount some improvised platform, and repeat to them the sermons which he had heard in church. At the age of nine he was admitted to Holy Communion, and from then on gave himself up to the practice of interior prayer. He endeavored to do this also at his work while he assisted his father.
Having attained his twelfth year, Blessed Hippolyte Galantini felt strongly inclined to embrace the religious life. But because he was delicate in appearance, little hope was held out to him to gain admission in a convent. Moreover, his father did not feel that he could spare him. Heaven had destined Hippolyte for another calling.
Impelled by an interior prompting and with the approval of his confessor, Hippolyte gathered the children together, taught them Christian doctrine, and prepared them for the reception of the holy sacraments. Later on he also gathered about him young men and young women and such that were not well instructed in their religion, in order to teach them during the evening hours and on Sundays.
---
---
This undertaking was not without its hardships and also met with opposition, but faithful to the advice of his devout and experienced confessor, he persevered in it. He lived to see the blessed fruits of his labors. The archbishop of Florence, Alexander of Medici, who later on became Pope Leo XI, interested himself in the undertaking. A chapel was turned over to Hippolyte where he could drill the ignorant in the prayers and fundamental doctrines of religion; also a house in which neglected children were provided with a home. Several young men joined him in his labors of love; many prominent persons contributed to the support of the work and encouraged it in every way.
A confraternity arose out of these beginnings, and Hippolyte placed it under the special protection of his seraphic Father Francis. It was called the "Confraternity of Christian Doctrine of St Francis," and was approved by Pope Clement VIII in 1602. Its principal objectives were to instruct youth in the truths of Christianity and to keep them away from dangerous amusements; but the members also interested themselves in every type of misery and dereliction as need required. The members of the confraternity engaged in their pious practices, after their daily duties had been performed, in place of recreation. Hippolyte himself never neglected his weaving on that account.
By means of set prayers and spiritual exercises they aimed also to sanctify themselves more and more. The good which the confraternity affected in Florence was so considerable that Hippolyte was requested to establish similar institutions in other cities: Volterra, Pistoia, Lucca, Modena, Parma, and elsewhere. He continued to live as a simple workingman and submitted minutely to the guidance of his spiritual director. But God, who chooses the weak to confound the strong, glorified him by means of heavenly inspirations and the gift of miracles.
The servant of God saw the most bountiful blessings proceed from his labors when God called him to his eternal reward in the year 1620. Blessed Hippolyte Galantini was at once honored as a saint, and in 1824, Pope Leo XII approved the celebration of his feast in Florence and several other dioceses in Tuscany.
from: The Franciscan Book Of Saints, ed. by Marion Habig, OFM
---
---


Return to Traditional Franciscan Calendar Page

Return to Saints Page

Return to Roman Catholic Saints Homepage