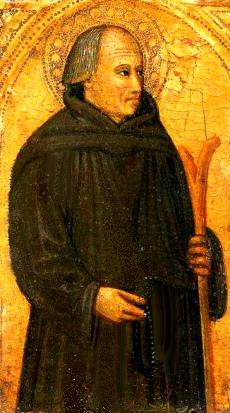 Blessed Gerard of Villamagna

Blessed Gerard of Villamagna
(Beato Gerardo di Villamagna)

Feast Day – May 23


About the year 1200, Gerard was born of poor parents at Villmagna, not far from Florence. The parents were tillers of the soil and managed the fields of a wealthy family living in the city of Florence. As Gerard lost both his parents early in life, this family took the boy into their own home and taught him to live a pious and Christian life. The boy pleased his benefactors as much with his natural gifts as with the practice of every virtue.
Gerard had just about reached the age of young manhood, when a son of the family, who belonged to the Knights of Jerusalem, chose him as his companion for his journey to the Holy Land. In an encounter with the unbelievers, both were taken captive, and they were not ransomed before they endured much tribulation.
When his master died soon after, Gerard visited the holy places in Palestine and then returned to his country. There he lived in the cabin of his parents near Villamagna, in order to lead a humble and retired life. But not long afterwards Blessed Gerard of Villamagna heeded the request of another Knight of Jerusalem, and joined him on a voyage to Syria. The ship on which they sailed with some twenty other knights, was pursued by pirates with far superior power, but through Gerard's earnest prayer, they were saved by a miracle.
When Gerard had been in Jerusalem for some time, the superiors of the knight offered him, because of his virtue and piety, the privilege of joining the order as a brother servant, which he gladly did. In his new vocation he rendered the sick and the pilgrims so much charity and was withal so devout at prayer, that he was quite generally called the holy brother. But that wounded the humility of unassuming Gerard, with the result that he obtained the consent of his superiors to return to his native town in Italy.
---
---
There Blessed Gerard of Villamagna was invested with the habit of the Third Order – it is said that St Francis himself gave it to him. Then Gerard withdrew to a hermitage near Villamagna. Here he led an extremely austere life, and received the gift of profound contemplation on the divine mysteries. But his charity urged him to devote himself also to the sick and the poor. He himself went from door to door and begged for them. In distributing the alms, he admonished them to lead a truly Christian life.
Gerard also proved his love for souls by visiting week after week three churches situated at a great distance from one another. At the first, he prayed for the holy souls in purgatory. At the second, he pleaded for the remission of his own sins. At the third, he prayed for grace and enlightenment for all believers and unbelievers. St Leonard of Port Maurice in his day cherished one of these churches, located on Mt Incontro, so highly that he built a friary there dedicated to holy retirement.
In his hermitage Gerard applied himself so continually to prayer upon his knees, that the latter were covered with thick calluses, as is recorded also of St James the Apostle.
Rich in merits and regarded by all as a saint, Gerard died in the month of May, 1242, on the day he had previously mentioned to his confessor. Many miracles occurred at his grave, for which reason his hermitage was converted into a church. The veneration paid to Blessed Gerard of Villamagna steadily accorded him for more than six hundred years was sanctioned by Pope Gregory XVI, in 1833.
from The Franciscan Book of Saints, edited by Marion Habig, OFM
---
---


Return to Traditional Franciscan Calendar Page

Return to Saints Page

Return to Roman Catholic Saints Homepage