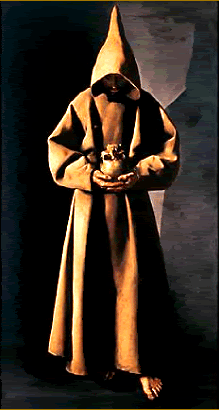 Blessed Gabriel Mary

Blessed Gabriel Mary

(Heureux Gabriel Marie)

Confessor, First Order

This blessed man belongs to the most outstanding clients of Our Lady in the Franciscan Order. He was a native of France. As a result of a sermon on the Immaculate Conception, which had been delivered by a member of the Franciscan Order, he himself became a Franciscan. Due to his great learning and virtues, he was frequently entrusted with the highest offices in the order.
His fame, however, rests on his founding of the order of the Annunciation, which venerates St Jane of Valois as its mother. The Blessed Mother of God commissioned him to undertake its establishment. He became the protector and counselor of the order, composed its rules and constitutions, secured many members for it, and was instrumental in establishing ten convents. Later he was given the title of general of the entire order of the Virgin Mary.
Pope Leo X was so impressed by his devotion to Our Lady that he changed his name from Father Gilbert Nicholas to Father Gabriel Mary of the Annunciation, or of Ave Maria. Father Gabriel Mary always closed his letters with the words, "Your servant in Mary."
---
---
The theme of his sermons was always some verse from the Magnificat or from the Hail Mary. He bound himself by vow never to say or do anything which might not be pleasing to his beloved heavenly Queen.
While Blessed Gabriel Mary was guardian in Paris, a professor of theology ventured to attack the mystery of the Immaculate Conception of the Blessed Virgin Mary in his presence. Father Gabriel was seized with holy anger. He defended this prerogative of Our Lady with such eloquence that the professor declared himself vanquished.
Father Gabriel Mary died on August 27, 1532, following an academic event in which he had proposed ten questions concerning the prerogatives of Mary and had given his explanation of them. He closed by saying:
"Today I shall see the glorious Mother of God."
Then Blessed Gabriel Mary began to recite the Vespers of the Blessed Virgin. When he reached the last verse of the Magnificat, he quietly passed away. Pope Innocent granted a plenary indulgence to those who would visit the convent church in Bourges "on the feast of St Gilbert." A petition has been sent to the Holy see to permit his veneration in the entire Franciscan Order, and the cause of his formal beatification is now pending in Rome.
*from The Franciscan Book of Saints, by Fr. Marion Habig, OFM
---
---


Return to Saints Page


Return to Roman Catholic Saints Home Page