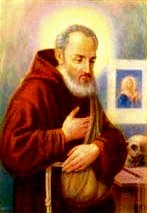 Blessed Felix of Nicosia

Blessed Felix of Nicosia
(Blessed Felice da Nicosia)

Feast Day – June 1


Felix was born at Nicosia, Sicily, of poor parents. His father was a mender of shoes. But they were good, honest people, who reared their children to be good Christians and useful persons. Their lessons were particularly well received by Felix. His heart was like soft wax, in which the admonitions of his parents were deeply engraved. In a very special way he loathed all lying and indecent speech. Out of veneration for the Passion of Christ, he fasted, even as a boy, on the Fridays of March. In honor of the Blessed Virgin Mary, he prayed the rosary every Saturday.
When the boy was old enough, his father sent him as an apprentice to an able shoemaker. There Felix distinguished himself by great modesty, docility, industry, and patience. When his companions joked about his seriousness and piety, he had a friendly answer for them in such a way that his good master took great pleasure in him.
As he grew older, Blessed Felix of Nicosia realized how many dangers there were in the world of virtue. So when his parents died, he applied at the Capuchin convent at the age of twenty for admission. He was refused. But Felix persevered. He prayed, waited, and at opportune times renewed his plea again and again. Finally, after eighty years, he obtained the long-desired admission. On October 19, 1743, he was invested at Mistretta.
Now Blessed Felix of Nicosia strove to be a true servant of God. His mind was continually set on God alone. He entertained a lowly estimate of himself and welcomed it if others slighted him. Austere as he was, he desired to undertake special works of penance in addition to those practiced in common; however, in obedience he desisted from them.
---
---
After his profession Felix was sent to the friary of Nicosia, his native city, to assist the brother who gathered alms. He always showed himself very willing, gladly taking the greater portion of the burden on himself. He kept up that attitude even when he was an older brother. He did not trouble about his relatives and acquaintances in the city. He usually prayed while on his rounds, and in the friary he was happy if he could spend his free time before the Blessed Sacrament. There he was sometimes rapt in ecstasy so that he was seen raised several feet from the ground. He was always ready for any assignment given to him in obedience.
One time his superior said he should go to a certain artist and have a painting made of himself. Felix started out at once. Favored by God as he seemed to be, it was found well to subject him to the most extraordinary trials. But his virtue always proved to be genuine. He foretold future events, cured many sick persons by his prayers and the Sign of the Cross, and was sometimes found to be in more than one place at a time.
Blessed Felix of Nicosia had lived in the order in the greatest perfection for twenty-four years when God called him to eternal bliss. After receiving the last sacraments, he asked his superior to give him his blessing as a father and a priest before he departed this life. His superior tested his virtue even then, and told him not to ask for the blessing until he had been told to depart.
That evening the physician came and felt his pulse, and there was no sign of life anymore; but Felix still lived. When the doctor expressed his astonishment, the guardian, deeply moved, said: "Of course, he is waiting for the blessing." Stirred to the heart, the guardian gave him his blessing, and when he had said the words: "Go forth, O Christian soul," in the commendation, he blessed him again. Then Felix called on the holy names of Jesus and Mary, bowed his head and died.
Devotion to Blessed Felix of Nicosia, which Pope Leo XIII publicly approved on February 12, 1888, began immediately after his death.
From: Franciscan Book of Saints by Marion Habig, OFM
---
---


Return to Traditional Franciscan Calendar Page

Return to Saints Page

Return to Roman Catholic Saints Homepage