Blessed Eustochium

Blessed Eustochium
(Beata Eustocihio)

Feast Day - February 13


Blessed Eustochium was born in the year 1430 at Messina, Sicily, and received in baptism the name Smaragda, which means "the emerald." Following the example of her devout mother Mathilda, of the princely family of the Colonna, she shunned intercourse with the world even while still very young. She wore a coarse penitential garb under her outer clothing and strove zealously to cultivate all the virtues, but especially purity of heart, which she resolved to preserve throughout life.
Several times her hand was asked in marriage by young men of distinguished birth, even such who came from princely families, and her relatives, especially her own father, urged her to give her consent. But Smaragda steadfastly declined all the offers of her suitors, and redoubled her fasts, vigils, and prayers, so as not to swerve in her fidelity to her Divine Bridegroom.
Her father died while she was still quite young. Then Blessed Eustochium entered the convent of the Poor Clares which was located near her home town. At her reception she received the name of Eustochium.
---
---
Blessed Eustochium
In the convent she lived completely absorbed in God, devoted to prayer, work, and ministering to her sick sisters. Her spare time she devoted to the contemplation of the life and sufferings of Jesus and Mary. She fostered special devotion to our Blessed Lady. Her favorite prayer was the Hail Mary, which she was wont to recite as often as a thousand times on our Lady's feastdays. One time when the plague ravaged Messina, Sister Eustochium volunteered to take care of her fellow sisters who had been stricken, and regardless of any danger to her own life, she nursed them with tender charity and patience, and prepared them for a happy end.
Blessed Eustochium had spent eleven years in the convent when she was seized with a strong impulse to lead a stricter and still more secluded life. She sought permission of Pope Callistus III to found another convent in Messina where, with several other sisters who were of the same mind, she could observe the original rule of St Clare without any mitigations, under the guidance of the Friars Minor. The permission was granted, and her mother and sisters built a modest convent for her on a height known as Virgin Mount. There Eustochium with several companions and a few relatives entered in the year 1457, when she was but twenty-seven years old.
Like all the works of God, this new foundation was severely persecuted. But Eustochium overcame all hardships with confidence in God, steadfast patience, and the miraculous assistance that was frequently granted by God Himself.
At the age of thirty years, which was the age prescribed by the Church for those who hold the office of abbess, Eustochium was elected to that position. As time went on, a select band of spiritual daughters developed about her, who, guided by her equally loving and enlightened direction, became a delight to God as well as an object of admiration and edification to the people.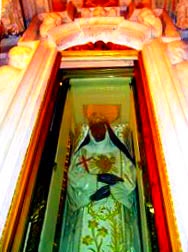 After about twenty years spent in working for God and her fellow sisters, while she received much evil from the world, but also much consolation from God, her pure soul took its flight to the eternal mansions.
A star was seen to rise aloft from her cell at the moment of her death. Her body, which is still incorrupt, is preserved in the convent church at Messina. Many miracles have occurred through her frequently experienced the effects of her powerful protection in the time of earthquakes.
In the year 1615 there were many earthquakes in Sicily, and it seemed the earth was constantly trembling. The senate, as well as all the people, asked the sisters to pray to Blessed Eustochium for relief.
The sisters removed the body of the beata, and sat her in her old choir stall. They asked Eustochium to pray for them, at which time her mouth opened and her voice could be clearly heard chanting the first verse of the psalm from the night office. The sisters joined with her, bowing their heads with their holy foundress at the Gloria. The earthquakes ceased at that moment.
Pope Pius VI approved the public veneration that has been accorded her.
*from: The Franciscan Book of Saints, ed. by Marion Habig, ofm
---
---


Return to Incorruptible Saints Page

Return to Saints Page

Return to Traditional Franciscan Calendar Page

Return to Roman Catholic Saints Homepage