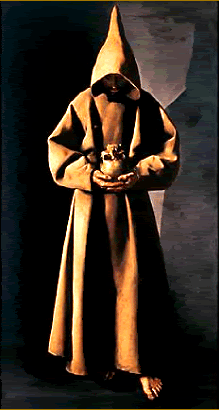 Blessed Conrad of Ascoli

Blessed Conrad of Ascoli
(Blessed Corrado di Ascoli)

Feast Day – April 19


At Ascoli in the district of Ancona, Conrad was born of the noble Migliano family in the year 1234. It was marvelous how the small child practiced mortifications and self-denial in all things as saints would do. It is recorded that even as an infant he took his mother's milk only once on fastdays. It was discovered that even as a small boy he possessed the gift of prophecy. Sometimes, for instance, he would go on his knees before a companion named Jerome, and he always tendered him great respect. When he was asked for the reason, he said: "I have seen the keys of heaven in his hands." Jerome later became a pope, known to us as Nicholas IV.
The two companions formed an intimate friendship. They vied with each other in their application to study, but still more in the practice of virtue. As young men, both entered the Franciscan Order at Ascoli; from there they were both sent to the cloister in Assisi to complete their training in the religious life, and then to Perugia to complete their studies, where both received the doctor's degree in theology. Then they went to Rome, where both had to teach theology, besides instructing the people in sermons.
Later when Jerome was called to fill the higher offices in the order, they separated, each going his own way. Conrad remained in his lowly condition, and did everything possible to turn aside any regard that might lead to promotion. Although he possessed great learning, his sermons were nevertheless so simple and plain that this great learning never came to the fore.
Blessed Conrad of Ascoli went about barefoot and in a poor habit, and lived very austerely. Four days in the week he partook of only water, bread and in consequence he was quite devoid of comeliness.
---
---
In 1274 his friend was elected as the successor to St Bonaventure in the position of minister general of the entire order. Then a desire to save souls and also perhaps of escaping the danger of any preferment led Conrad to beg for a mission to Africa to convert the Negroes. The mission was granted him.
Through his holy zeal and gently charity, the splendor of his virtues and the many miracles that God wrought to confirm his labors, Blessed Conrad of Ascoli won many thousands of souls for Christ.
Meanwhile Minister General Jerome received from Pope Nicholas III the responsible errand to persuade the king of France, who was warring against Spain, to accept terms of reconciliation. Jerome asked that his fellow religious, Conrad, in whose enlightenment and holiness he had much confidence, might be appointed as his associate on this embassy. So the missionary had to come back from Africa in order to set out for Paris with Father General. They had the greatest success, whereupon Jerome was raised to the cardinalate.
Conrad remained several years in Rome in order to preach; then he was sent to Paris to teach theology at the university there. While he did this with distinction, he also preached to the people and visited the hospitals in order to nurse the sick and render assistance to the dying. He saw in the poor sick our suffering Savior, in the contemplation of whom he was so deeply rapt that Christ Himself appeared to him every Good Friday in the manner in which Pilate showed Him to the Jews when he said: "Behold the man."
When in the year 1288 Cardinal Jerome of Ascoli was raised to the papal chair, he recalled his friend Conrad to Rome in order to create him a cardinal. Just once more Conrad preached to the people of Paris; it was on the subject that only virtue has any true worth and deserves to be valued. Then he set out. On the way he became very ill at his native town of Ascoli. With the devotion of an angel he received the sacraments, had himself placed on the bare floor and passed away blessedly in the Lord on April 19, 1289.
Nicholas IV bewailed his death before the cardinals as a great loss to the Church. The inhabitants of Ascoli prepared for him a beautiful monument and venerated him as their heavenly intercessor. Pope Pius VI approved his uninterrupted cult and thus declared Conrad of Ascoli Blessed.
from The Franciscan Book of Saints, edited by Marion Habig, OFM
---
---


Return to Traditional Franciscan Calendar Page

Return to Saints Page

Return to Roman Catholic Saints Homepage