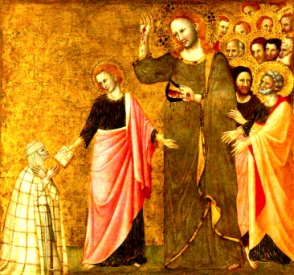 Blessed Clare of Rimini

Blessed Clare of Rimini
(Béni Claire de Rimini)
Feast Day - January 9


We learn from the life of Blessed Clare of Rimini what a misfortune it is for a child to lose its mother at an early age.
Born at Rimini in Italy about the year 1300, Clare lost her mother when she was but seven years old, and because her father could not devote much time and attention to the training of the vivacious girl, she grew up into maidenhood in a frivolous rather than in a Christian manner.
As a young woman, Blessed Clare of Rimini gave herself up so completely to worldly pleasures, that the few religious exercises she still practiced were a mere formality, external functions without any devotion or Christian motive. She married a man who was also a perfect child of the world.
Then, one day, as she attended holy Mass in a Franciscan church, and was gazing about in her usual distracted way, she suddenly felt an inward urge to pray at least one Our Father with devotion. She yielded to this impulse of grace, and lo, in the course of the prayer her soul was so enlightened as to show her the very sad state in which she was living.
---
---
Clare became alarmed at the consideration of her past life; she shuddered at the thought of the account God could require of her at any moment. Penitently she turned to the God of all mercies with the firm resolve earnestly to change her life.
Henceforth she avoided all worldly festivities, and with the consent of her husband, she entered the Third Order. When he died a short while later, she embraced a very strict life of penance. She wore iron girdles, slept on hard boards, lived on bread and water, and devoted herself entirely to prayer, meditation, and works of charity. She was especially interested in encouraging young women to keep from sinful vanity and frivolous living, and in reconciling persons who were at variance with one another.
Almighty God blessed her efforts with great success; in fact, He granted her the heavenly gifts of prophecy and miracles. It was once observed that while walking from town to the church that her feet never actually made contact with the ground, and that she was in fact levitating as she travelled with her companions.
Filled with holy longing for heaven, she died on February 10, 1346. Her cult was approved in 1784.
*from: The Franciscan Book of Saints, ed. by Marion Habig, ofm
---
---


Return to Franciscan Calendar Page

Return to Saints Page

Return to Roman Catholic Saints Homepage