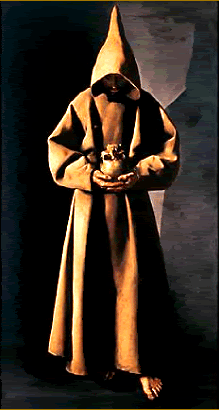 Blessed Christopher of Romagnola

Blessed Christopher of Romagnola
(Beni Christophe de Romagne)

Confessor, First Order


Christopher had been a priest for many years when the grace of God impelled him to ask our holy Father St Francis for the habit. In 1219 Blessed Christopher of Romagnola was sent to Guienne, in southern France, to establish the order in those parts. He was a man full of holy simplicity and sincere love for the poor and the unfortunate. He took great pleasure in caring for the many persons who were afflicted with leprosy in those days and were outcasts of society.
Christopher was very severe with himself. He wore an iron shirt for a long time, and always a belt having sharp points. He ate but once a day even in his advanced age. He built a small cell for himself of branches and sticks, and covered it with straw. But in spite of these rigorous penances he was always cheerful of countenance and pleasant in his dealings with others.
The pleasant demeanor by which Blessed Christopher gained the hearts of so many sinners was a virtue he had learned from St Francis. Father Christopher had seen how St Francis of Assisi dealt with his fellowmen, especially with poor sinners.
---
---
Blessed Christopher of Romagnola
As in all things else, so in this matter St Francis kept before his mind the example of Our Lord Jesus Christ, who always received sinners with kindness.
Realizing the value of time, Blessed Christopher of Romagnola never wasted a moment, always busily occupied in prayer, meditation, manual labor, care of the garden, or other work that benefitted his brethren. His kindness and affability attracted many sinners, whom he succeeded in converting. God frequently favored him with extraordinary inspirations, and so it was revealed to him that St Francis was about to die. He hastened from France to Italy and arrived at the Portiuncula shortly before the death of St Francis. He had the consolation of receiving the saint's last blessing.
When Christopher arrived at the age of nearly one hundred years, his earthly sojourn came to an end. While earnestly exhorting the brethren gathered about his deathbed, he surrendered his soul to God in the year 1272. In death Blessed Christopher of Romagnola looked more like a person who had fallen asleep than like a dead person. An unusual concourse of people assembled for his burial which took place in Cahors, France. Many miracles occurred after his death; and his cult as Blessed was approved in 1905.
From: The Franciscan Book of Saints, by Fr Habig, OFM
---
---


Return to Saints Page

Return to Roman Catholic Saints Homepage