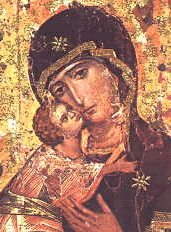 Blessed Christina of Tuscany


Blessed Christina of Tuscany
(Beata Cristina di Toscana)
(Oringa, Christiana)

Virgin, Third Order

Blessed Christina Macabai or Menabuoi of Valderno (meaning Valley of the Arno) was a holy Tertiary of the thirteenth century, and may have been born while St Francis was still living. The town of her birth was Santa Croce, in Tuscany, on the lower Arno, between Florence and Pisa. Her parents were poor; and as a girl, Oringa, as she was then called, was a shepherdess. While tending the flocks, she devoted much time to prayer. So sensitive was her purity that she trembled and even became ill when she heard an unclean word.
Oringa was a very beautiful girl, and hence there was no lack of suitors who came to ask her hand; but she refused all offers of marriage. Her brothers maltreated her, trying to force her into marriage. Oringa fled to Lucca, and found a position as a servant girl. She began to lead a life of severe penance, going barefoot even in winter, sleeping on the bare ground, and fasting at times for several days in succession without taking any food. By her prayers and example she converted many sinners, and came to be known as "the missionary of Lucca."
---
---
With her mistress she made a pilgrimage to Rome, where people began to call her Christina or Christiana because of her holy life. From Rome they went to Assisi; and here a young lawyer was so attracted by her beauty that he wanted to marry her by all means. But Christina had made up her mind to lead a life of virginity and once more took refuge in flight.
There is a tradition that St Veridiana, the holy Tertiary recluse at Castelfiorentino in the Val d-Elsa, who died in 1242, advised Christina to return to her home town, Santa Croce, and to join the Third Order. Anyhow, that is what Christian did; and many young women followed her example and placed themselves under her direction. Thus she founded a religious community, which, according to some, observed the Rule of St Augustine. That may well have been the case, because at this time religious sisterhoods of the Third Order Regular were still unknown.
Many years later, in 1310, Blessed Christina of Tuscany died a holy death. If the story about St Veridiana is true, she must have been in her eighties. Many miracles followed her death; and Pope St Pius V approved the cult paid to her. At Lucca and at Miniato the feast of Blessed Christian is observed on January 4.
*from The Franciscan Book of Saints, Marion Habig, OFM
---
---


Return to Saints Page


Return to Roman Catholic Saints Homepage