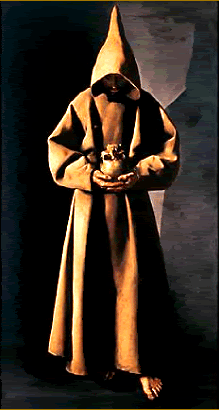 Blessed Archangel of Calatafimi

Blessed Archangel of Calatafimi

(Beato Arcangelo di Calatafimi)

Confessor, First Order

Born of a noble family at Calatafimi in Sicily, Archangel was from his earliest youth of a serious turn of mind and averse to the pleasures of the world. In order not to become infected by the world, he withdrew to a hermitage in the neighborhood of his native town, where he devoted himself to meditation and prayer. His tender devotion to the Queen of heaven often brought him the grace of her visitations.
The repute of his piety soon spread through the neighboring localities, so that people came to ask his prayers, to seek advice, and to have the sick blessed by him. Since many received wonderful assistance, the crowds kept on increasing. This considerably disturbed Archangel's piety. He feared, too, the dangerous attacks of vanity.
---
---
So Blessed Archangel of Calatafimi decided to withdraw to the city of Alcamo, where he was unknown, and there rendered service to the sick and the poor in the hospital. But here also his virtues made him the object of veneration, and he repaired to a lonely cave in which he lived until the order was issued by the Apostolic See that all hermits should enter some established convent.
Archangel then begged for the holy habit in the Franciscan friary at Palermo, where he received it at the hands of Blessed Matthew of Girgenti. Very likely he received holy orders also about this time.
Since his return to Alcamo was urgently desired, and the people offered to remodel the hospital, which was now empty, into a Franciscan friary, he was sent there by his superiors. Under his guidance a model convent of the strictest observance was established. He himself led in zeal for prayer, in the practice of humility, of poverty, and of rigorous mortification. But his zeal for the honor of God and the salvation of souls urged him sometimes to leave his beloved solitude to preach the Gospel and to lead sinners to repentance. God often confirmed his work by miracles.
---
---
Weakened by works of penance and old age, Blessed Archangel of Calatafimi died in the year 1460. Miracles continued to occur at his grave in the Franciscan church at Alcamo; and for this reason Pope Gregory XVI approved his veneration.
*from The Franciscan Book of Saints, Fr. Marion Habig, OFM
---


Return to Saints Page


Return to Roman Catholic Saints Homepage