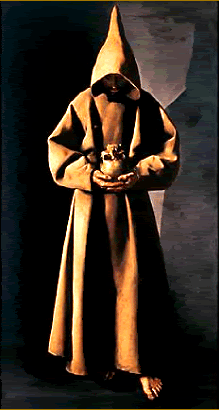 Blessed Andrew of Spello

Blessed Andrew of Spello
(Beato Andrea di Spello)

Feast Day – June 3


Andrew was a parish priest in his native city of Spello, not far from Assisi, and administered his duties with the utmost zeal of a true shepherd of souls. He admired St Francis and his first companions, and reflected on how they went about preaching and doing good in the cities and towns of Italy, just as Christ our Lord and His apostles once traveled about in Judea.
In 1223, when his mother and sister had died, the forty-four-year-old parish priest came to St Francis and asked to be received among the brethren o his order. The holy founder gladly granted his request, personally invested him with the holy habit, and soon sent him out to preach.
In the year 1226 Andrew was present with other brethren around the deathbed of their Seraphic Father. In giving him his blessing, St Francis foretold that much fruit would be derived from his preaching of the divine word. The results soon verified the prophecy.
When Andrew was called to Spain to attend the general chapter of the order, a prolonged drought had dried up all the fields of Soria, where the chapter was being held. Andrew told the inhabitants that this was a punishment for their sins, and warned them forcefully to do penance. They were all moved to such deep contrition that they burst into tears. Then he entreated God to ward off the punishment, and behold, at once a plentiful rain fell which restored everything to life. In other places, too, God supported his words with the most unusual miracles; he even restored dead persons to life.
---
---
Blessed Andrew of Spello rejoiced at the blessings which resulted everywhere from his sermons. But at the same time his reputation spread everywhere, and his humility urged him to evade the honors. With the consent of his superiors he retired to the secluded convent of the Carceri, where, engaged in quiet prayer and severe mortification, he led a more heavenly than earthy life.
One day the Lord of heaven visited him. In the grotto in which Andrew lived, Christ appeared to him in the form of a beautiful boy. But just then the little bell rang out for Vespers. At the first signal Andrew left the grotto in order to heed the call of obedience. When he returned from Vespers, he found the Divine Child still there, who said to him:
"It was well that you heeded the call of obedience; I will be merciful to you."
Not long afterwards Andrew was granted the greatest of all graces here on earth, the grace of a holy death. Rich in virtues and merits, he died on June 3, 1254. Numerous miracles occurred at his grave in the church of the Apostle St Andrew at Spello. The public veneration accorded Blessed Andrew of Spello was approved by Popes Clement XII and Benedict XIV.
From: Franciscan Book of Saints by Marion Habig, OFM
---
---


Return to Traditional Franciscan Calendar Page


Return to Saints Page


Return to Roman Catholic Saints Homepage