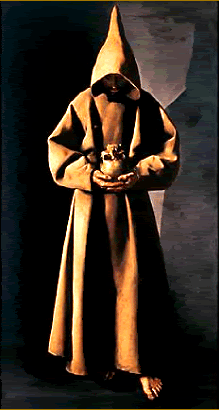 Blessed Andrew of Hibernon

Blessed Andrew of Hibernon
(Blessed Andre Hibernon)

Feast Day – April 18


Andrew was the descendant of an old Spanish noble family which had, however, been reduced to poverty through adverse circumstances. He was born in Murcia in the year 1534. In order to relieve the family, an uncle in Valencia undertook the child's rearing.
People marveled at the innocence which Andrew preserved so unsullied throughout his life that it was believed he never lost his baptismal innocence. The depressing conditions in which his parents lived saddened him very much, and on this account, as a young man, he endeavored in various ways to earn money to support them. After he had saved a considerable amount of money, he undertook a journey to Murcia, very happy in anticipation of the unexpected joy which he would afford his parents. But robbers attacked him and stripped him of all he had.
At first greatly cast down, Blessed Andrew of Hibernon later derived from this incident the grace to discern how little one can depend on material goods. He resolved to labor henceforth for other goods of which thieves could not rob him.
---
---
In the city of Albacete, the twenty-two-year-old young man begged at the gate of the Franciscan friary to be admitted as a lay brother, which favor was granted to him. Here he could be seen zealously engaged in gathering imperishable treasures. He observed all the rules of the conventual life very punctually, performed cheerfully all the tasks assigned to him, and was so given to penitential observances that he excited the admiration of all the brothers.
While Blessed Andrew of Hibernon dealt very strictly with himself, he was full of love and kindness towards others. He endeavored to lighten the burdens of his companions whenever he could do so, and took pleasure in relieving them of their most burdensome tasks. His free time he devoted to prayer and meditation. Often he was completely absorbed in the mysteries of the bitter sufferings of Christ, or in the mysteries of the feast which was at hand. At such times he neither saw nor heard what was going on about him.
From this intimate union with God he drew the strength steadily to advance in all virtues, as well as lively zeal to save the souls of others. Many a sinner and unbeliever he led back to the right road through his discourses. He also prayed and made many a sacrifice for the poor souls in purgatory. God granted him extraordinary graces. Many sick persons he restored to health; sometimes he multiplied provisions for the assistance of the poor, and he foretold many future events. He also foretold four years in advance that April 18, 1602, would be the day of his death, on which date he did die a holy death at Gondia in Spain.
To his funeral came a large concourse of people; and they were so loud in their praises of the deceased, that the cortege seemed to be accompanying the body of a saint. Since new miracles were constantly occurring at his tomb, Pope Pius VI pronounced Blessed Andrew of Hibernon blessed in the year 1791.
from The Franciscan Book of Saints, edited by Marion Habig, OFM
---
---


Return to Traditional Franciscan Calendar Page


Return to Saints Page


Return to Roman Catholic Saints Homepage