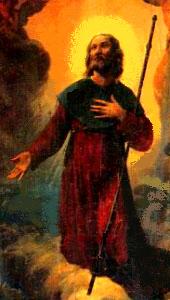 Blessed Amatus Ronconi

Blessed Amatus Ronconi

(Beato Amato Ronconi)

Confessor, Third Order

Blessed Amatus was a thirteenth-century Tertiary who rose to great heights of sanctity by serving God as a hermit, as a pilgrim, and as a nurse. Born at Sldezzo, near Rimini, about 1238, he lost his parents while still very young, and was brought up by a relative. He was then urged to get married, but he felt that God called him to a life of prayer and penance. After joining the Third Order of St Francis, he fled to a solitary place and began to live as a hermit. By many he was considered a fool, but God showed how much He was pleased with the virtuous life of Amatus by marvelous signs. A mysterious light was seen shining over the hut which served as his shelter, and heavenly songs were heard to issue from it.
Amatus left his hermitage at times to make pilgrimages on foot to Santiago de Compostela in Spain and other famous shrines, or to care for the poor and the sick. He founded the Hospital of St Mary of Mount Orciale, near Rimini, and there he spent the last years of his life as a nurse.
Whereas saints and blessed like Blessed Amatus Ronconi eagerly desired death and rejoiced when their hour came, many people are in terrible fear of death. Why is that? In some cases it is because such people have sought all their happiness in this world, eager to taste all its pleasures without a thought of the will of God. They feel that their comedy is about to end, to be followed by a long tragedy. The fear that harries them is striking evidence that everything does not end with death.


Blessed Amatus Ronconi
"O Death, how bitter is the remembrance of Thee to the man who has peace in his possessions!" Also, mere attachment to material things without their having enjoyed them may at times fill people with fear at the thought of being separated from them by death. True Christians are mindful of those other treasures which we cannot lose in death and which constitute real comfort in that hour.
In 1304 Blessed Amatus Ronconi died at the age of sixty-six; and ever since then he has been venerated as a saint. So many miracles were attributed to his intercession that Pope Pius VI approved his cult as Blessed; and his feast is celebrated at Rimini on May fifteenth. However, his name has not been placed in the Franciscan calendar.
*from The Franciscan Book of Saints, Fr. Marion Habig, OFM
---
---

Return to Saints Page

Return to Roman Catholic Saints Homepage