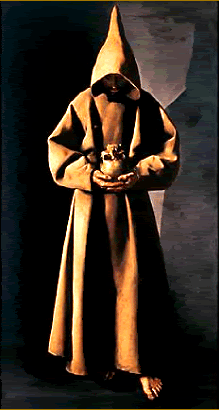 Blessed Agathangel and Cassian

Blessed Agathangel and Cassian

Martyrs, First Order

Agathangel was born in Vendome in 1589, and Cassian in Nantes in 1607. Both received the habit of the Franciscan Order among the Capuchins and were sent to the African missions shortly after they had completed their studies. They met in Cairo. There they learned of the persecution of the Christians in Abyssinia. Filled with a desire to labor and suffer for Christ among their separated brethren, they went to that country.
Blessed Agathangel and Cassian had scarcely begun their work when they were seized and put in chains. They languished in prison for the space for the space of a month, and then during another twenty-five days they were dragged to Gondar amid unheard-of treatment and during the extreme heat of a July sun. The king intended to force Blessed Agathangel and Cassian to renounce their faith.
Father Cassian replied with firm determination:
"We wish to live and die as children of the Catholic, apostolic, and Roman Church, outside of which there is no salvation. We do not wish to purchase our lives with the price of infamous apostasy. We do not wish to enjoy honors and riches, which you offer us at the price of our immortal souls."
The Catholic Church, as the body of Christ, is the only saving Church. It is the mystical body of Christ, the Incarnate Second Person of the Blessed Trinity. Is it possible to think of more than one body belonging to this Head? That is plainly impossible. Besides, it is the task of the Church to lead souls to God. There is only one such goal, and there cannot be various ways which are opposed to one another, as in the non-Catholic churches. The Catholic Church, therefore, says with Christ: "I am the way." Be faithful to this way.
---
---
Both confessors were then sentenced to be hanged. When the executioners were looking about for ropes, the two confessors, inflamed with a desire for martyrdom, called out: "if you need ropes, use our cords." So it was done. A few moments later the holy missionaries had won the crown of martyrdom. This happened on August 7, 1638. Pope Pius X beatified them with great solemnity.
*from The Franciscan Book of Saints, by Fr. Marion Habig, OFM
---
---


Return to Saints Page


Return to Martyr's Page


Return to Roman Catholic Saints Home Page