Abbey de la Couronne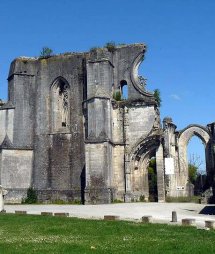 October 1: Foundation of the Abbey de la Couronne in Angouleme (1122)
The Abbot Orsini writes: "Foundation of the Abbey de la Couronne, of the order of Saint Augustin, in the diocese of Angouleme, under the title of Our Lady, by Lambert, who was its first abbot, in the year 1122."
La Couronne, or "the Crown," is a town in France located to the south-west of Angouleme. The Abbey of Our Lady of La Couronne is nothing more now than a pile of ruins that remain from what was once a Benedictine monastery. The first high abbey dates from the 12th century, when on May 12, 1118, Lambert and his religious brothers laid the cornerstone of the Church of the Crown.
On March 12th, on Passion Sunday in the year 1122, the religious made their entry into the primitive church of the Crown in the presence of Bishop William of Perigueux and Bishop Gerard of Angouleme, as well as the Papal Legate Wulgrin II, the count of Angouleme. Lambert was elected to be the first abbot, and was consecrated on Easter Sunday.
The first Abbey Church was replaced by a second, and larger, church, which was necessitated by the spiritual renewal that took place at the end of the 12th century due to the Gregorian reform. It was consecrated in the year 1201 while Junius was abbot.
---
---
Abbey de la Couronne
The abbey suffered heavy damage from fire and pillaging during the Hundred Years War, although the two western bays of the nave and the façade were subsequently rebuilt in the Gothic style. The church was then again damaged during the French wars of religion. Seized as a national asset during the French Revolution, the grounds were used as a quarry until it the property became an historical Monument in 1903. Even so, the plundering of some of the buildings continued for nearly another century until all of the ruins became protected in the year 1999.
There are now tours where families spend a few moments casually strolling through the empty and lifeless ruins where once hundreds of prayerful monks spent their entire lives in solitude and service to God.
A recent visitor to the site has a blog page that has more information and good photographs of the ruins. It is not a secure link, but you may cut and paste http://lifeincharente.blogspot.com/2015/02/abbey-of-notre-dame-at-la-couronne.html to view the page if you wish.
James Fitzhenry, roman-catholic-saints.com, Marian Calendar
---
Have A Great Story About This Topic?
Do you have a great story? Have You Visited This Shrine? Share it!
---
Return to Marian Calendar October

Return to Roman Catholic Saints Home Page from Abbey de la Couronne

---
---